'Dumb And Dumber To' Poster Features The Return Of The Shaggin' Wagon

New Line Cinema has released a new poster for Dumb and Dumber To which features the return of the dog-themed Shaggin' wagon van from The Farrelly Brothers' 1994 comedy classic. Jim Carrey and Jeff Daniels also make an appearance as Lloyd Christmas and Harry Dunne, sticking their heads out of the window as the iconic Mutt Cuts van jumps over a hill on what can only be, another fun adventure.
The first trailer for Dumb and Dumber To will debut Tuesday, June 10th on The Tonight Show with Jimmy Fallon. I loved the original Dumb & Dumber, so I'm excited to see what this sequel will bring. We will post that when it hits the interwebs. See the full Dumb and Dumber To poster after the jump.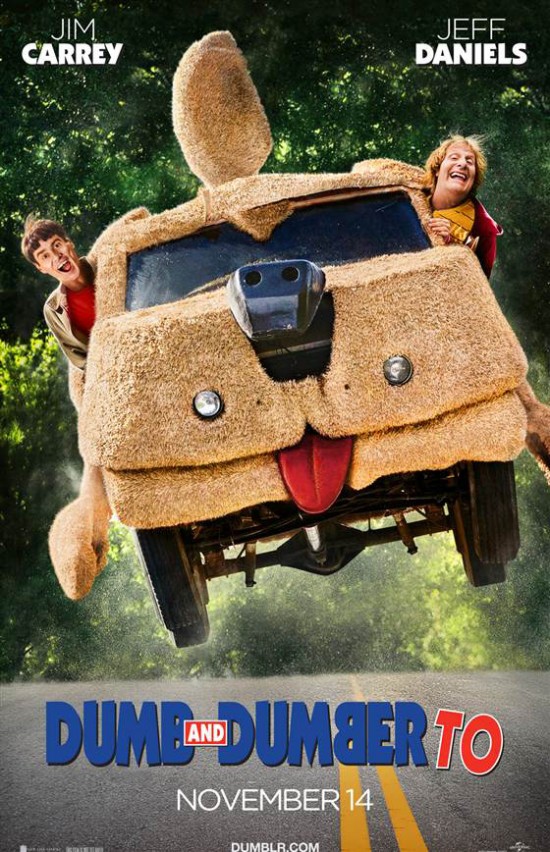 Dumb and Dumber To opens November 14. Kathleen Turner, Laurie Holden, and Rob Riggle are also set to star, along with Cam Neely (Sea Bass) and Brady Bluhm (Billy in 4C).
Jim Carrey and Jeff Daniels reprise their signature roles as Lloyd and Harry in the sequel to the smash hit that took the physical comedy and kicked it in the nuts: Dumb and Dumber To. The original film's directors, Peter and Bobby Farrelly, take Lloyd and Harry on a road trip to find a child Harry never knew he had and the responsibility neither should ever, ever be given.