'The Best Of Me' Trailer: Nicholas Sparks Does It Again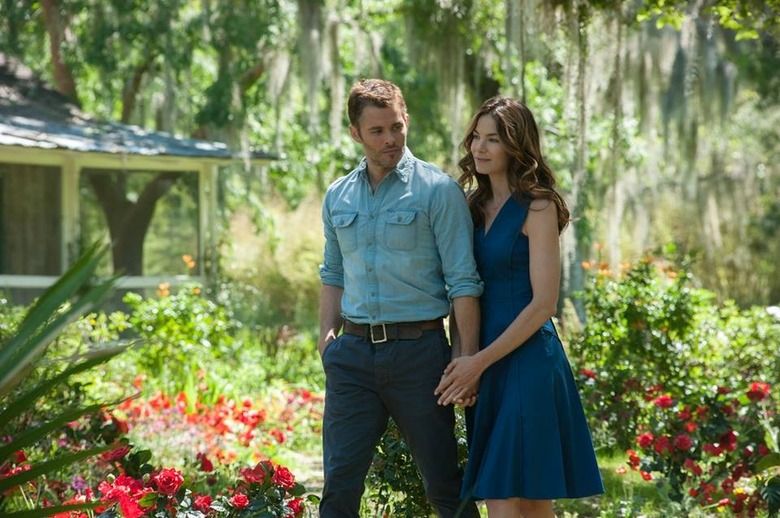 Death is a staple of Nicholas Sparks romances, and that's as true as ever in his latest movie adaptation The Best of Me. This time, the Grim Reaper conveniently provides an excuse to bring two high school sweethearts back together.
Rich girl Amanda (Michelle Monaghan) and wrong-side-of-the-tracks boy Dawson (James Marsden) haven't seen each other in twenty years when they reunite at the funeral of a mutual friend. Sparks fly, but lots of obstacles stand in their way because there would be no movie otherwise. Hit the jump to watch the first The Best of Me trailer.
Sparks adaptations aren't everyone's cup of tea. But love him or hate him, the teen casting in this movie looks kind of terrible. Is that 30-year-old man really supposed to be a high school version of James Marsden?The Best of Me actually marks Marsden's second time on the Sparks train, since he had a supporting role in The Notebook. But this one, he gets to be the one who dramatically lifts up the female lead to shower her with kisses. In a bittersweet twist, Marsden only got the role because Paul Walker passed away before filming began.The Best of Me hits theaters October 17.
Based on the bestselling novel by acclaimed author Nicholas Sparks, The Best of Me tells the story of Dawson and Amanda, two former high school sweethearts who find themselves reunited after 20 years apart, when they return to their small town for the funeral of a beloved friend. Their bittersweet reunion reignites the love they've never forgotten, but soon they discover the forces that drove them apart twenty years ago live on, posing even more serious threats today. Spanning decades, this epic love story captures the enduring power of our first true love, and the wrenching choices we face when confronted with elusive second chances.