Miles Teller And Emma Watson In Talks For 'La La Land' With 'Whiplash' Director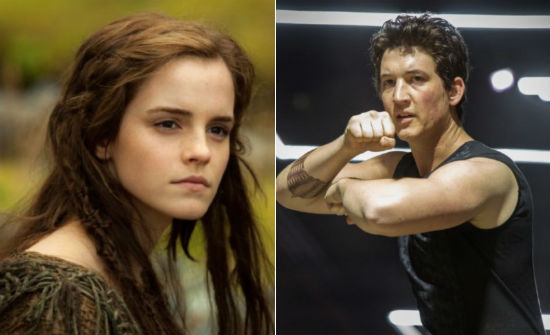 Miles Teller and Emma Watson are in talks to co-star in a modern-day Los Angeles musical from the red-hot director of Whiplash. That's a cool sentence. The film is called La La Land and Damien Chazelle will write and direct with Lionsgate attached to distribute. It'll follow two artistic, romantic Los Angeles residents who fall in love but find the cutthroat nature of the city so brutal on their relationship, they're pushed into song.
Read more about the La La Land movie below.
The Wrap broke the news of the film, which would potentially be Chazelle's follow up to Whiplash. Sony Pictures Classics will release that film on October 10 and, once that happens, excitement for this movie will begin to rumble. Whiplash rightfully won both the Audience and Grand Jury Prize at this year's Sundance Film Festival. It's great.
Along with breaking the news of the film, The Wrap also got their hands on Chazelle's "cookbook." That's a big book of ideas and descriptions that filmmakers create to help sell a movie. The Wrap ran the full director's statement but here's an excerpt that helps describe Chazelle's vision for the movie.
I'd like to make a contemporary musical about L.A., starting with the L.A. we know but slowly building to a vision of the city as romantic metropolis–one that is actually worthy of the dreams it inspires. I'd like to make a musical about the way L.A.'s peculiar rhythms can push its residents to the edge of their emotions–be they hope, desperation or love. Think the kind of teetering-toward-madness you see in "The Graduate" or "Boogie Nights", and imagine if you were to push that further. In this case, the city pushes its residents all the way: it pushes them into song.
As a fan of musicals, a huge fan of both Watson and Teller, and great admirer of Whiplash, this is a film I'm instantly excited about. If everything works out, it could go into production in February. What do you think about Teller and Watson in La La Land?