New 'Guardians Of The Galaxy' TV Spot And Beautiful Fan Art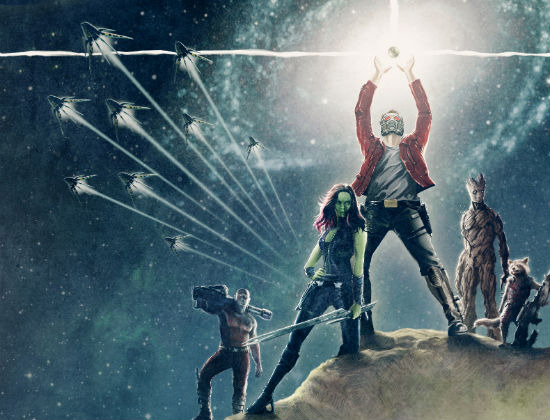 According to writer/director James Gunn, Thursday night's NBA Finals game will include both 30- and 60-second commercials for his upcoming Marvel adventure, Guardians of the Galaxy. No need to wait for Lebron James and Tony Parker to suit up, though, as the first spot has already appeared online. It has a few awesome new shots including a few of Lee Pace as Ronan the Accuser (he's the hooded guy at the beginning) and Star-Lord (Chris Pratt) affirming the badassness of the Guardians. It's super cool.
And if that's not exciting enough, the Poster Posse – an international group of artists who do art based on the same upcoming movies – have released the first batch of art for Guardians of the Galaxy. There's some truly beautiful and interesting stuff to be seen, including an already iconic mash-up of the 1977 one sheet for Star Wars by Matt Ferguson. Check out the Guardians of the Galaxy fan art and TV spot below.
First up, here's the TV spot. Man I cannot wait for this movie:
Beautiful stuff right? Well how does it compare to some of these? This is just a handful of the first batch of Guardians of the Galaxy posters made by the Poster Posse and posted by Blurppy. Head there for more and back tomorrow for the second batch.
Click on each poster for the high-res version and mouse over for the artist name.
From Marvel, the studio that brought you the global blockbuster franchises of Iron Man, Thor, Captain America and The Avengers, comes a new team—the Guardians of the Galaxy. An action-packed, epic space adventure, Marvel's "Guardians of the Galaxy" expands the Marvel Cinematic Universe into the cosmos, where brash adventurer Peter Quill finds himself the object of an unrelenting bounty hunt after stealing a mysterious orb coveted by Ronan, a powerful villain with ambitions that threaten the entire universe. To evade the ever-persistent Ronan, Quill is forced into an uneasy truce with a quartet of disparate misfits—Rocket, a gun-toting raccoon, Groot, a tree-like humanoid, the deadly and enigmatic Gamora and the revenge-driven Drax the Destroyer. But when Quill discovers the true power of the orb and the menace it poses to the cosmos, he must do his best to rally his ragtag rivals for a last, desperate stand—with the galaxy's fate in the balance.