Sequel Bits: 'Sin City', 'Goonies 2', 'Insurgent', 'Fast & Furious 7'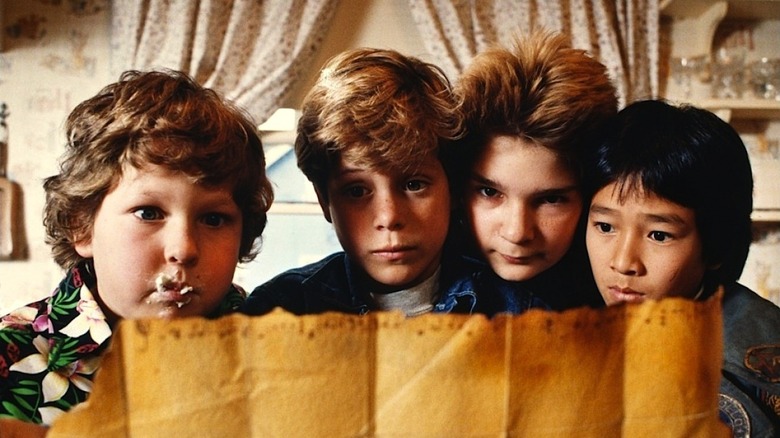 Everyone wants to make a sequel in this edition of Sequel Bits. It's just that some of these sequels are less theoretical than others. After the jump:
Eva Green responds to her Sin City poster rejection
Sean Astin feels optimistic about The Goonies 2
Zach Galligan wants in on the Gremlins reboot
Angelina Jolie will "maybe" play Maleficent again
Insurgent adds Daniel Dae Kim and two others
Fast & Furious 7 welcomes musician Romeo Santos
Vin Diesel and Jordana Brewster get close in a new pic
Get your groove on with a new Step Up All In trailer
I find it a bit odd. It seems like it's all just publicity — a lot of noise for nothing. You have so many more violent things in the movie business and this is kind of soft. I'm not naked. It's suggested. I find it really sexy, actually. It's kind of beautiful. But if it shocks people, I don't know what to do about it. I don't want to upset anybody. I don't want to be seen as just the femme fatale or put into some silly box. I hope that people will have enough imagination.
It's true the decision didn't make a whole lot of sense, but that's the MPAA for you. Robert Rodriguez and Frank Miller's Sin City: A Dame to Kill For opens August 22 in all its sexy, violent glory. [Vanity Fair]
Plenty of Goonies fans find the very idea of a Goonies sequel to be sacrilege, but star Sean Astin isn't one of them. "The first one was magic. The second one will be too, or Steven [Spielberg] and Dick [director Richard Donner] won't do it," he said. Personally, I need a little more reassurance than that, but it's still good to hear. [Reddit]Similarly, Gremlins star Zach Galligan sounds more enthusiastic than most about the prospect of a Gremlins reboot. In fact, he wants in on it — and he has an idea for how to make that happen.
What I can tell you is that they are in the process of rebooting it. I know that the process is going reasonably well. I know that they are writing something, right now, as we speak. I would obviously never have any idea or presume to have any idea about my cooperation with a reboot until they approach me or sent me some kind of script. You would have to figure one of three possibilities would be apparent: 1. I would have no involvement in it; 2. I have a small, cameo-type involvement in it; or 3. and hopefully the Warner Bros people are listening to this, would let me play the new Billy Peltzer's teacher, or play the dad, or play the cop. Just move up and play another part.
The new Gremlins is reportedly on the fast track at WB, but no release date has been set as of yet. [Moviefone]
Angelina Jolie enjoyed making Maleficent so much, she wants to do it all over again. "It's kind of hard to top her, she was pretty fun," she responded when asked about her next acting gig. "Maybe I'll get the chance to play her again."
Disney hasn't officially said whether there will be a follow-up, but the chances look good. Maleficent had a strong opening weekend and has already earned $183 million to date. [MovieWeb]
Casting on the Divergent sequel Insurgent continues to heat up. Daniel Dae Kim, Jonny Weston, and Suki Waterhouse are the latest additions, joining fellow franchise newcomers Naomi Watts and Octavia Spencer.Details on Kim and Weston's roles haven't been revealed, but Waterhouse will play a Dauntless member named Marlene. Robert Schwentke is directing Insurgent, which hits theaters March 20, 2015. [Variety, THR]Fast & Furious 7 has let slip one more bit of casting. Musician Romeo Santos is set to make a cameo in the film, replacing "Danza Kuduro" singer Don Omar. The latter had already appeared in Fast & Furious and Fast Five. [Latino Review]
In other Fast & Furious 7 news, the Toretto siblings look as tight as ever. Dom and Mia (Jordana Brewster) share a warm embrace in a new still revealed by Vin Diesel.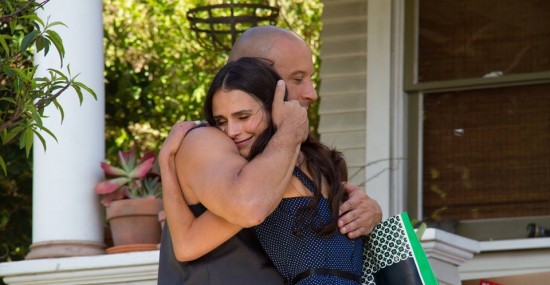 Directed by James Wan, Fast & Furious 7 premieres April 10, 2015. [Vin Diesel]
The dialogue in the new Step Up All In trailer is truly terrible, but it's not like anyone watches these films for the sparkling banter. We're here for the dance moves, and those look as slick and stylish as ever.
Step Up All In lands July 25. This installment of the series was directed by Trish Sie and stars Ryan Guzman and Briana Evigan. [via First Showing]