'The Giver' Trailer: Meryl Streep Rules The Future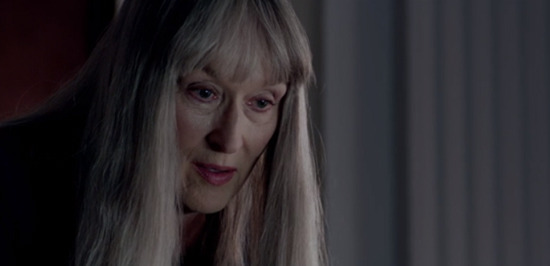 The Giver, based on the book by Lois Lowry, tells the story of a society in which people no longer feel, well, pretty much anything. There are no emotions, no colors, and no real sense of personal individuality. All that hits a tipping point when one young man, Jonas (Brenton Thwaites) is assigned to take over the work of The Giver (Jeff Bridges), who is essentially the world's last living librarian. The Giver tells Jonas a few secrets, and in doing so threatens to upset the whole system. Suddenly what had seemed like a utopian existence starts to look a lot more dark and oppressive.
The film preserves the book's black and white world, and the process of it opening up to color. It also casts Meryl Streep as the society's Chief Elder. Which means we get to see Streep ruling with an indomitable will, and a tendency to say things like "When people have the freedom to choose, they choose wrong." This new trailer really shows off Streep's work, and is therefore worth a look. 
The Giver opens on August 15. Yahoo has the trailer.
The haunting story of THE GIVER centers on Jonas, who lives in a seemingly ideal, if colorless, world of conformity and contentment. Not until he is given his life assignment as the Receiver of Memory does he begin to understand the dark, complex secrets behind his fragile community. The film is based on Lois Lowry's beloved young adult novel of the same name, which was the winner the 1994 Newbery Medal and has sold over 10 million copies worldwide.