More 'Star Wars Episode VII' Set Photos Reveal Two Iconic Ships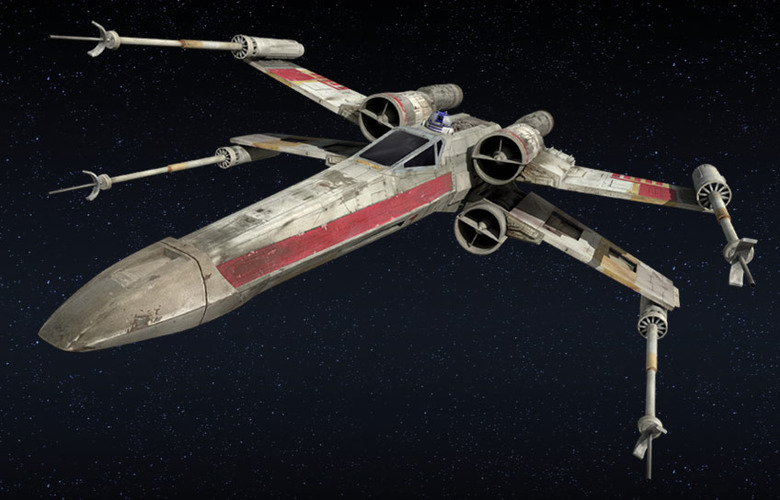 It figures it would come to this. TMZ is now the leading Star Wars spy in the world. One day after releasing some very interesting photos from the Abu Dhabi set, the gossip website has come upon twenty new photos taken inside J.J. Abrams' secret soundstages. Inside those buildings a few massive sets are under construction, including what's unmistakably the Millennium Falcon and an X-Wing Fighter. There are also new looks at the alien revealed earlier this week.
Check out the latest Star Wars 7 set photos below.
The photos, which we aren't going to run here, can be viewed on TMZ.
Now, here's my thought on this. There's a chance these aren't legitimate. Maybe they're an elaborate hoax or just touched up images from a few decades ago. But, the photos of the new alien – the massive pig/rhino thing viewed here – suggest these photos were taken semi-recently. At least a few months before filming began on Episode VII. Eventually, that alien was transported to Abu Dhabi and the ships were kept on the soundstages for the London filming that's happening as we speak. That would suggest the Millennium Falcon and X-Wing in those photos real.
Also – some have suggested that's not a normal X-Wing and, of course, anything is possible. A Z-95 potentially.
Here's the next question. What does Disney and Lucasfilm do to stop this? Someone is obviously selling TMZ these images illegally. It happened yesterday, it happened today, and if they keep getting clicks, it'll happen again.
Even so, on the positive side, there's something chillingly awesome about seeing that "piece of junk" again, all ready for a new generation. I can't wait to see how the ship plays into this new saga. Will it just be Han Solo flying around in it? Will some of the new Jedi get a ride? Will it hold over into Episode VIII and IX or will something terrible happen and the Falcon will meet its demise? We have about a year and a half before we find out.
What do you think of these Star Wars 7 set photos? Definitely the Falcon and X-Wing right?