'Made In America' Trailer: Ron Howard Watches Jay-Z Put On A Show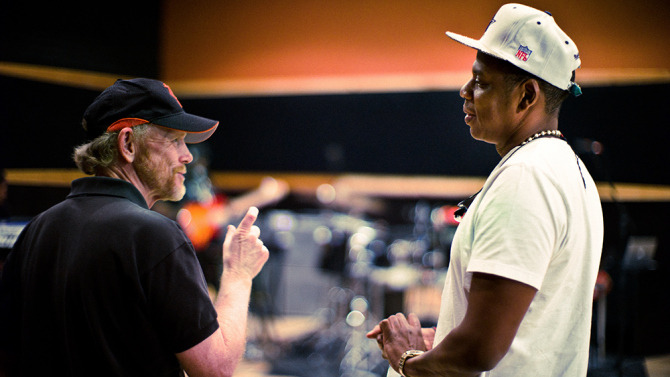 Ron Howard looks to Jay-Z and other performers to find the power of music in Made in America. The documentary (no relation to the Ted Danson/Whoopi Goldberg movie of the same name) finds Howard looking at the creation and execution of Jay-Z's Made in America festival, which took place last year in Philadelphia. Not only does Howard spend time pointing a camera at the people organizing the fest, he shoots most of the performers, which included Jay Z (of course), Miike Snow, Janelle Monáe, Pearl Jam, Run-D.M.C., Santigold, Skrillex, Kanye West, D'Angelo, Dirty Projectors, and The Hives.
And so we get moments such as the bit when the organizers talk about how Skrillex has to perform from inside his spaceship, and then we see Skrillex in his spaceship. That's cinema, folks. The film premiered at TIFF last year and aired on Showtime not long afterwards, but has been picked up for theatrical distribution in the US this year. Watch the Made in America trailer below. 
Made in America will be in theaters on July 22 from Phase 4 Films. The second Made in America festival will take place in Los Angeles and Philadelphia, with both shows happening on August 30th and 31st.
A celebration of both the unifying power of music and pursuit of the American dream, Made in America is an all-access backstage pass to the one-of-a-kind festival created by rap superstar Jay Z, and directed by Academy Award® winner Ron Howard. Featuring remarkable performances and fascinating backstage interviews with many of today's biggest music stars, Made in America shows how one giant celebration of music can change people's lives.