Cool Stuff: Hot Toys Iron Man Red Snapper Sixth Scale Figure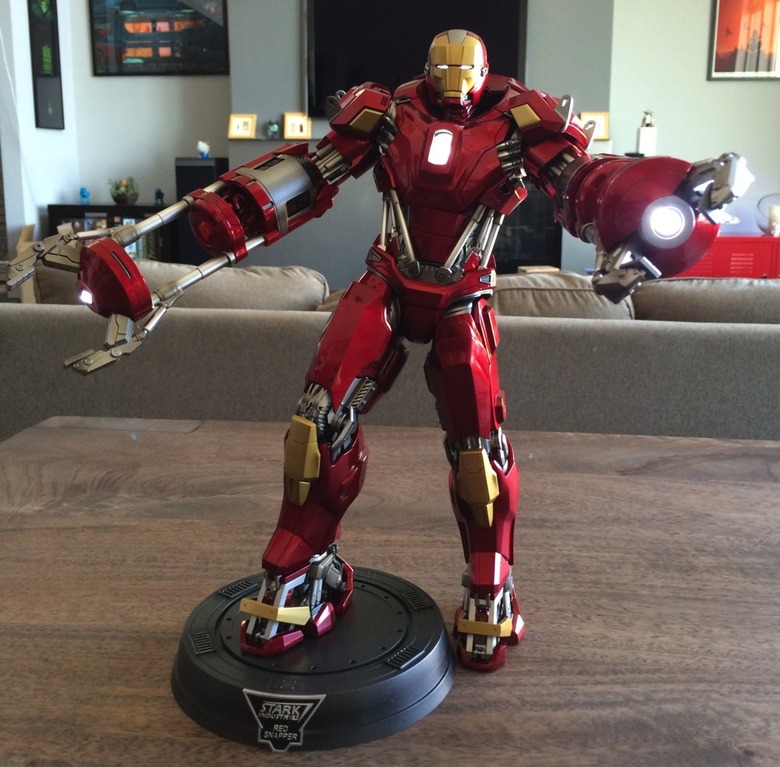 Sideshow Collectibles sent me a sample of Hot Toys Iron Man 3 Red Snapper Sixth Scale Figure. Lets unbox this figure and take a look at whats inside the box. After the jump you will find photos of the Hot Toys Iron Man Red Snapper Sixth Scale Figure, alongside my thoughts on the product.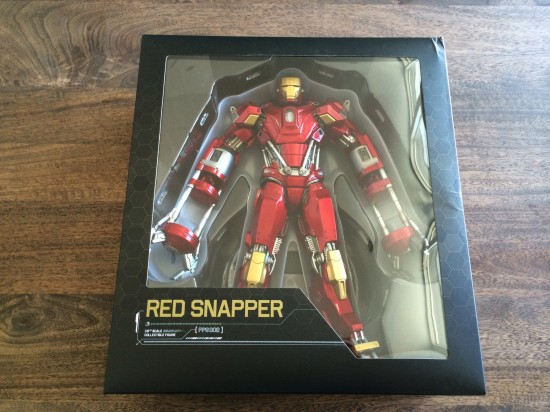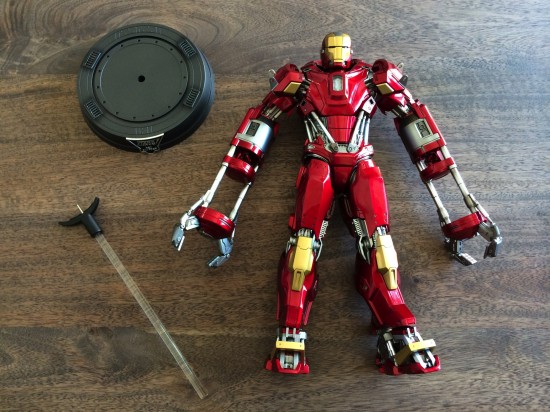 I'm a big Iron Man fan but I haven't found the interest or expendable income to afford any of the figures outside of the stand Iron Man suits. Iron Man 3 featured an insane 42-different armors in the final climactic action sequence. I can definitely tell you I don't have the shelf space to house even a fifth of them, but if I would also buy the optional Hot Tots hall of armor display set-up. The Red Snapper armor is suit #35 in Tony Stark's closet, a disaster rescue suit which includes an extendable arm with movable claw-like hands.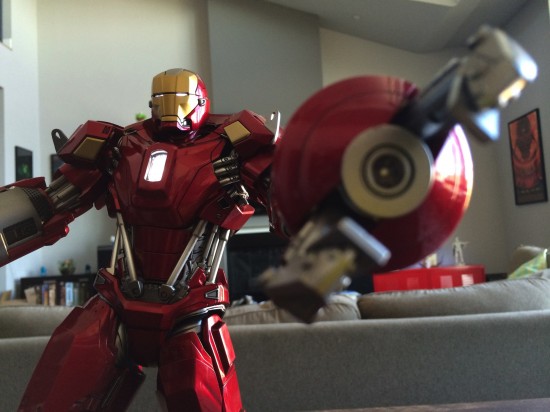 Sideshow/Hot Toys Iron Man Red Snapper Sixth Scale FigureReviewed
Like all of the sixth scale line produced by Hot Toys, the figure is insanely detailed. The Red Snapper figure shows off the intricate mechanical workings of the mark 35 armor. It also comes with a figure display stand complete with Stark Industries nameplate.
The suit itself is extremely impressive to see in person, a hulking piece of armor that will stop onlookers in their tracks. But will they even remember the Red Snapper armor from Iron Man 3? Fans certainly will, and I guess for those who don't it adds a bit more to the conversation of this piece.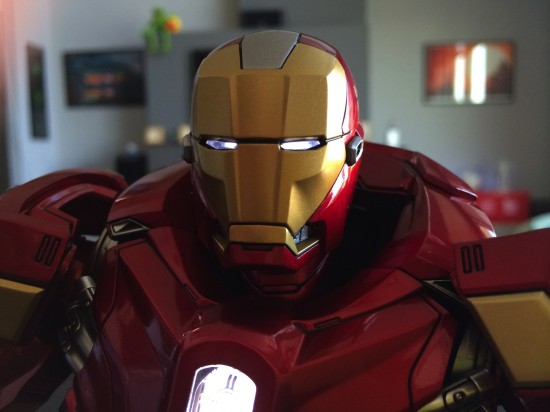 Hot Toys figures usually come with a ton of extras, interchangeable hands and heads, but the Red Snapper is just what you see — a figure, stand and an optional arm to let the suit fly in mid-air as it was built to by Tony Stark.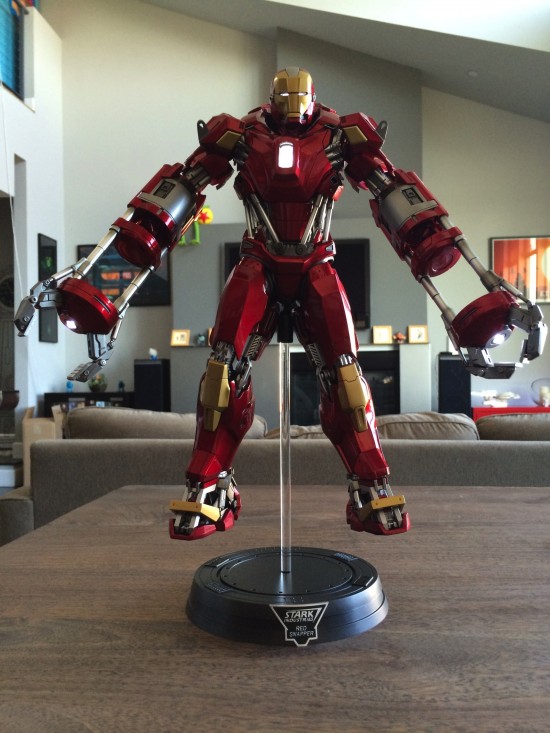 The head is removable, and you can interchange it with an unmasked Tony Stark sculpt but you would need another one of the Iron Man sixth scale figures from Hot Toys in order to do so. The good news is that if you're buying the Red Snapper figure, you probably have a bunch of Stark interchangeable head sculpts in you collectible somewhere (probably in a box in the closet). I just don't understand why Hot Toys couldn't have included an extra copy of one of the Tony Stark heads from their line, as it wouldn't require an additional sculpt of mold. My guess is that including a Tony Stark head sculpt is more costly due to Robert Downey Jr's likeness rights.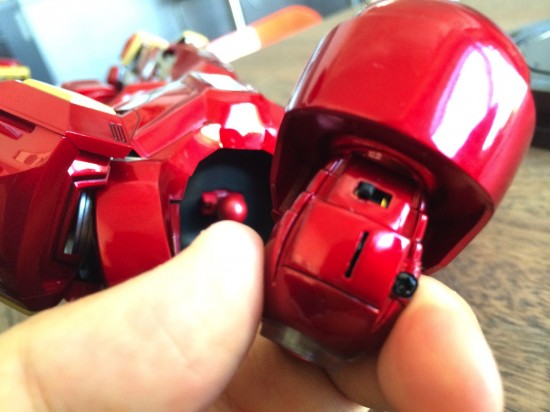 My other complaint about this release is that you need to flip four separate switches to enable the suit's light up features. While this isn't a huge issue with the hand lights, the switches for the head and chest are a bit hard to get to. To turn on the Snapper suit's eye lights you need to remove the head armor and flip a switch hidden underneath. The chest light is activated by a switch which is hidden in a removable section of the back armor — and that compartment isn't easy to detach. Too bad that Hot Toys wasn't able to connect the electronics so that one easy to reach switch turned all of the lights on. But again, I think its rare that collectors ever turn on the lights in these sixth scale figures anyways, so its not a huge deal.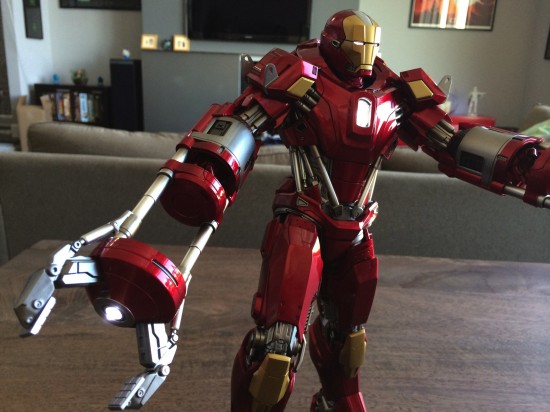 Here is the official product description for the Hot Toys Iron Man Mark VVVX Red Snapper Sixth Scale Figure:
Marvel Studios' IRON MAN 3 is hitting the theaters this week! The newest trailers have introduced a multitude of new suits. Today, we're excited to present one of the brand new armors from Hot Toys' Power Pose Series (PPS), the Red Snapper aixth Scale Collectible Figure. The Mark XXXV (35) disaster rescue suit includes an extendable arm and movable claw-like hands which can perform film-accurate poses. The Red Snapper Mark XXXV (35) features LED light-up functions and a figure display stand with a Red Snapper and Stark Industries nameplate.
The Hot Toys Iron Man Mark VVVX Red Snapper Sixth Scale Figure is sold in the US by Sideshow Collectibles for $254.99.