How James Cameron Wrote Three 'Avatar' Sequels Simultaneously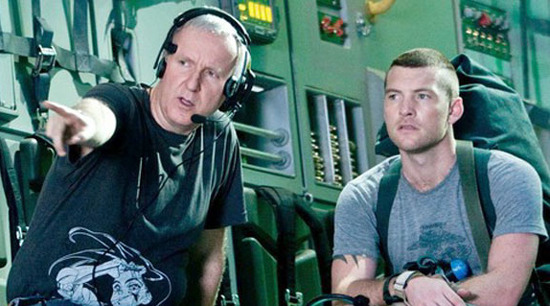 James Cameron never sets easy goals for himself: a liquid metal Terminator, the greatest tragedy of all-time as a love story, create a whole new world. That streak continues with Cameron's next three films, a trilogy of sequels to 2009's sensation, Avatar.
Cameron has been working on the sequels for years now, with the first one set for release in December of 2016. The reason for the delay is Cameron wants to shoot all three films simultaneously and this time technology isn't holding him back. It's good old fashioned writing.
When you follow up the biggest hit in box office history, audiences expect something great. They expect something even greater from the director of two of the best sequels of all time, Terminator 2: Judgement Day and Aliens. So Cameron took his sweet time making sure the scripts were right.
At the LA Times' Hero Complex Film Festival this past weekend, he explained exactly how that happened. He spent the first year of actual development writing 1,500 pages of notes and then hired four writers – Josh Friedman, Rick Jaffa and Amanda Silver and Shane Salerno – to help him write the scripts from those idea. To manage all those minds, Cameron looked back to his experiences writing Dark Angel for inspiration.
Below, read how James Cameron used television to help write the three Avatar sequels.
Here's Cameron's story, transcribed from the Los Angeles Times Hero Complex Film Festival.
We tried an experiment. We set ourselves a challenge of writing three films at the same time. And I could certainly write any one of them but to write three in some reasonable amount of time – we wanted to shoot them together so we couldn't start one until all three scripts were done and approved. So I knew I was going to have to "parallel process" which meant I would have to work with other writers. And the best experience I had working with other writers was in television when I did Dark Angel. The television room is a highly collaborative, fun experience. So we put together three teams, one for each script. The teams consist of me and another writer on each one of the three [films]. So I'm across all the films and then each one of them would have their own individual script they were responsible for. But what we did that was unique was we sat in the writing room for five months, eight hours a day, and we worked out every beat of the story across all three films so it all connects as one, sort of, three film saga. And I didn't tell them which one was going to be there's individually to write until the last day. So everyone was equally invested, story wise, in all three films.So, for example, the guy that got movie three, which is middle one of this new trilogy, he now knows exactly what preceded and what follows out of what he's writing at any given moment. We all consider that to be a really exciting, creative and groundbreaking experiment in screenwriting. I don't know if that necessarily yields great scripts but it certainly worked for us as a process to get our minds around this kind of epic with all these new creatures, environments and characters and all that.Cause the first thing I did was sat for a year and wrote 1500 pages of notes of the world and the cultures and the different clans and different animals and different biomes and so on. And had a lot of loose thematic stuff that ran through that but I didn't a concrete story. I wanted to approach it more like, "Guys we're going to adapt a novel or series of novels." Because I felt that kind of detail, even if movies can't ever be that detailed – it can be visually detailed, it can't be that detailed in terms of character and culture. But you always get this tip of the iceberg kind of thing. You sense it's there off camera or in the past of the moment that you're seeing. So I felt that was the way to do it.
Cameron had tons more to say at the Hero Complex Film Festival, and we'll have more of it for you soon. For now, are you surprised at this television-inspired process?
Avatar 2 opens in December 2016 and will be followed by its sequels in December 2017 and December 2018.