R-Rated Animated Film 'Sausage Party' Gets June 2016 Release; Paul Rudd And Danny McBride Join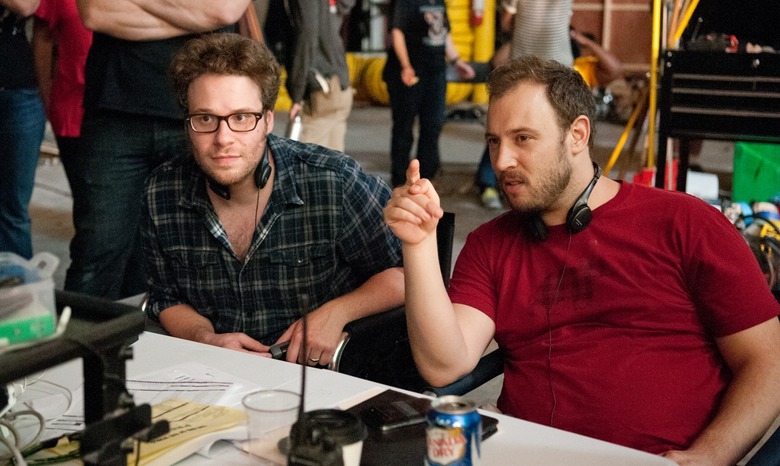 These days, everything Seth Rogen and Evan Goldberg touches turns to gold. This is the End and Neighbors were both massive hits and we'll see a trailer for The Interview in a week or two. The other film they're working on is a much bigger gamble though. It's an R-rated animated film, a genre that rarely gets a mainstream release. However, Sony Pictures is betting big on the duo as they've just given the film, Sausage Party, a June 3, 2016 release date.
In addition to the release date, Paul Rudd, Danny McBride and Workaholics star Anders Holm have joined the already impressive voice cast which includes Rogen, James Franco, Jonah Hill, Michael Cera, David Krumholtz, Kirsten Wiig, Edward Norton and Nick Kroll.
The Wrap was among the outlets to write about the casting and Sausage Party release date. Here's a description of the film which is being directed by Conrad Vernon and Greg Tiernan from a script by Rogen, Goldberg, Kyle Hunter and Ariel Shaffir. Rogen and Goldberg are also producing:
Sausage Party is a raunchy animated movie about one sausage's quest to discover the truth about his existence. After falling out of a shopping cart, our hero sausage and his new friends embark on a perilous journey through the supermarket to get back to their aisles before the 4th of July sale.
The film has been in production for a while now but, as is always the case with animation, needs a lot of time to finish. Originally when the project was announced, it was thought to aimed at a 2015 release.
More so even than the who's who comedic voice cast, the June 3, 2016 release date says a lot about Sausage Party. For the first time in a long time,   an R-rated animated comedy is getting a wide summer release. The last time I remember that is South Park: Bigger, Longer and Uncut in 1999. Before that, I can't think of anything. Things worked out for South Park, as it grossed over $80 million worldwide, but that was a major property at the height of its popularity. Sausage Party has a famous cast, but is all new characters. Sony must have extreme confidence in its crossover potential to give it that release date.
Are you surprised Sausage Party is getting a summer release date?