Hulu Exploring Ideas For A Sixth Season Of 'Community'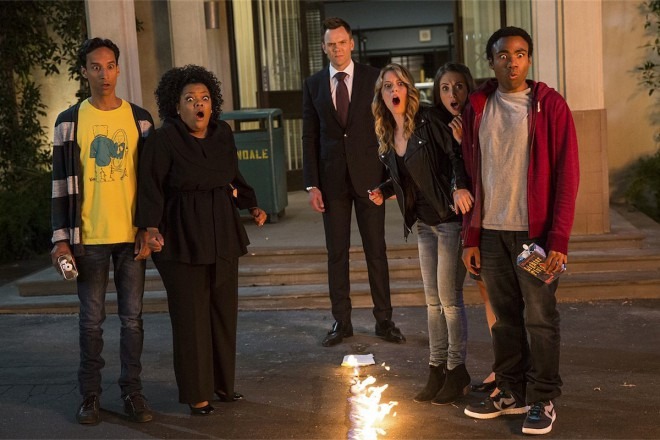 A great many people watch Community via Hulu — it's one of the streaming service's most popular offerings — and now Hulu may be the home for the near-mythical sixth season of the show. When the show was canceled by NBC there was some talk that a place like Hulu could be the home for one last season. And while comments from the show's creator Dan Harmon made that seem like a  pretty distant possibility, conversations are taking place.
At this point that's all it seems to be — like Hulu buying Sony TV a drink and slyly being all "so, you think you might wanna make a sixth season together?" But that's better than nothing.
Deadline and Vulture both say that Hulu is talking to Sony Pictures Television and the two parties are exploring options for a sixth season. There is nothing set yet, and no ink is on any deal. Deadling, for instance, says "sources stress that conversations are preliminary and it is unclear whether they would lead to a deal," while Vulture cautions that "both sides are open to the idea and are trying to see if it makes financial sense."
So don't happily deploy that #sixseasonsandamovie hashtag just yet. But if you'd like to see more of the show, there's some hope.
While we wait for news, revisit, if you will, Dan Harmon's recent comments about the show's potential afterlife. He said,
I will confess, however, that when Sony called me on Friday with the news, there was brief discussion at the end of the call about the concept of the show living elsewhere, and I was definitely in the "eh" column. For a million reasons, some selfish, some creative, one logistic, five sexual, three racist (in a good way) and, oddly, nine isometric. I won't bore you with them. I mean, of course I will bore you with them. Boring you is my job, my hobby and my passion. But it doesn't matter right now WHY I'd be lukewarm or if my reasons would be valid, what matters is, I won't be lukewarm. I'll heat up. I said "eh" on a Friday afternoon, I will change it to a "sure, let's talk" on Monday morning and Sony can do their thing. I'm not going to be the guy that recancels cancelled Community.
Hulu sixth season of Community