'Cheap Thrills' Behind The Scenes Clip: See The Creation Of A Sick Scene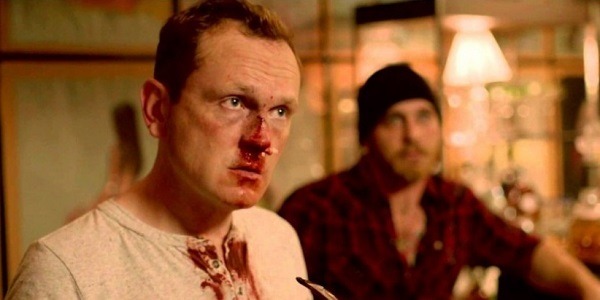 Cheap Thrills is one of my favorite films of the year so far — a simple, tightly contained and very vicious punch to the gut. Now we'd like to show you a clip from the making-of documentary that is on the new Blu-ray release. The film stars Pat Healy and Ethan Embry as two not-quite-friends who are down on their luck. Potential financial salvation arrives in the form of a couple, played by Sara Paxton and David Koechner, who are celebrating a birthday with a night on the town. But their night on the town isn't like yours — they're willing to pay ever-larger sums of money to see Healy and Embry do crazy things, all in the name of entertainment.
One of those crazy things (well, several of them, really) is beyond crazy — it goes into the realm of totally insane. Below, you can see a clip of how the sequence, and the prop associated with it, was put together. What follows is both a spoiler for the film, and not for the squeamish.
E.L. Katz wrote and directed Cheap Thrills. The film is on DVD and Blu-ray now. Thanks to Drafthouse for the clip.
Cheap Thrills follows Craig (Pat Healy, Compliance), a struggling family man who loses his low-wage job and is threatened with eviction. In an effort to delay facing the music at home, he heads to a local bar and encounters an old friend (Ethan Embry, Empire Records). The two friends are roped into a round of drinks by a charismatic and obscenely wealthy stranger (David Koechner, Anchorman 2) along with his mysterious wife (Sara Paxton, The Inkeepers). The couple engages the two friends in a series of innocent dares in exchange for money over the course of the evening, with each challenge upping the ante in both reward and boundaries. It seems like easy and much needed money, but the couple's twisted sense of humor pushes just how far Craig and his friend are willing to go for money and cheap thrills.
Here's the trailer: