First Look: 'Book Of Life', From Fox Animation And Guillermo Del Toro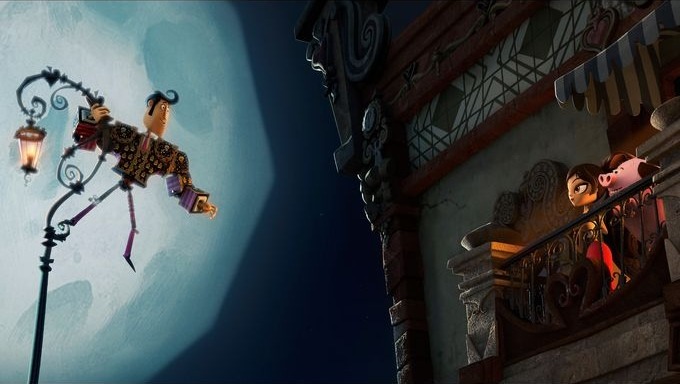 Crimson Peak isn't out until next fall, but we are getting another Guillermo del Toro treat in time for this Halloween. Fox Animation's Book of Life, produced by del Toro and directed by Jorge R. Gutierrez, is just getting started on its marketing campaign, and today we have our first look at images from the movie.Diego Luna leads the voice cast as Manolo, a young romantic who wants to pursue his passion for music, much to his family's dismay. Channing Tatum and Zoe Saldana also star, as Manolo's childhood friends. Check out the new Book of Life images after the jump.
Manolo is the one with the swoopy hair, and Tatum's Joaquin is the mustachioed one. Saldana's female lead character is named Maria. Though the three used to be best friends — "like the Three Musketeers," Tatum says — as kids, the two men are now rivals competing for the lady's affections.
Meanwhile, Manolo is also struggling with his desire to become a musician. This upsets his family, including his dad (Hector Elizondo) and grandfather (Danny Trejo), who want Manolo to follow in their footsteps and become a bullfighter.
So Manolo takes a magical journey of self-discovery, traveling from Land of the Living to the Land of the Remembered (where people who've completed their lives go after they die) and the Land of the Forgotten (where souls who were unfulfilled in life linger). 
On that trip, he meets his great-grandfather (Placido Domingo), who abandoned his dreams of becoming an opera singer to becoming a matador, and an ancient god called the Candle Maker (Ice Cube) who has a body of wax and a beard of clouds.
Gutierrez, who has been working on the film for 14 years, took inspiration for the film's look from the Mexican holiday called the Day of the Dead. "To other cultures it might seem dark, but the Day of the Dead is actually a very positive thing," he explains. "It's about joyfully remembering the people no longer with us."
But Book of Life is also about the bonds between the living. Tatum says that despite Manolo and Joaquin's differences, "friendship always wins. That's the message of this story: love and friendship and what you're willing to sacrifice for these ideas."
Book of Life opens October 17.