'The Congress' Trailer: Robin Wright Sells Herself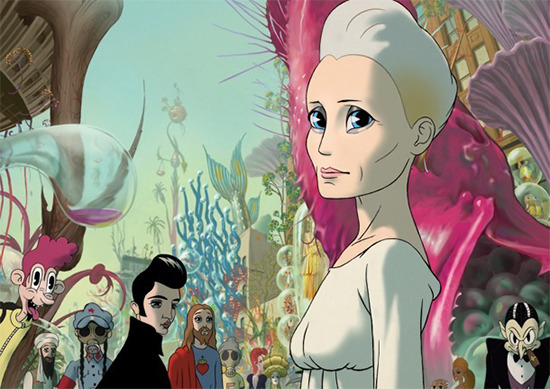 Ari Folman's film The Congress is a strange and dazzling wonder in which Robin Wright (played by Robin Wright) sells her likeness to a movie studio. She gives up the rights to her name, image, and voice, and in return is given some measure of security for her family. The film tells this story through an unusual framework in which the transforming "reality" of Robin's life — and the ways in which it is sold to an audience — is eventually envisioned through wildly imaginative animation. After playing festivals last year, the film will be released later this year in the US by Drafthouse, and we have the first US Congress trailer below. Keep an eye out for animated Tom Cruise.
This trailer does a good job of cutting the film's unusual story into a tight little ball. This footage hints at some of the odd turns the story takes, but doesn't give away much at all.
(That Tom Cruise cameo is, sadly, not actually voiced by Cruise.)
The Congress opens on August 29. Trailer via Cinedigm.
More than two decades after catapulting to stardom with The Princess Bride, an aging actress (Robin Wright, playing a version of herself) decides to take her final job: preserving her digital likeness for a future Hollywood. Through a deal brokered by her loyal, longtime agent (Harvey Keitel) and the head of Miramount Studios (Danny Huston), her alias will be controlled by the studio, and will star in any film they want with no restrictions. In return, she receives healthy compensation so she can care for her ailing son and her digitized character will stay forever young. Twenty years later, under the creative vision of the studio's head animator (Jon Hamm), Wright's digital double rises to immortal stardom. With her contract expiring, she is invited to take part in "The Congress" convention as she makes her comeback straight into the world of future fantasy cinema.