'Dark Blood' Trailer: River Phoenix's Last Film Is Finally Getting A Release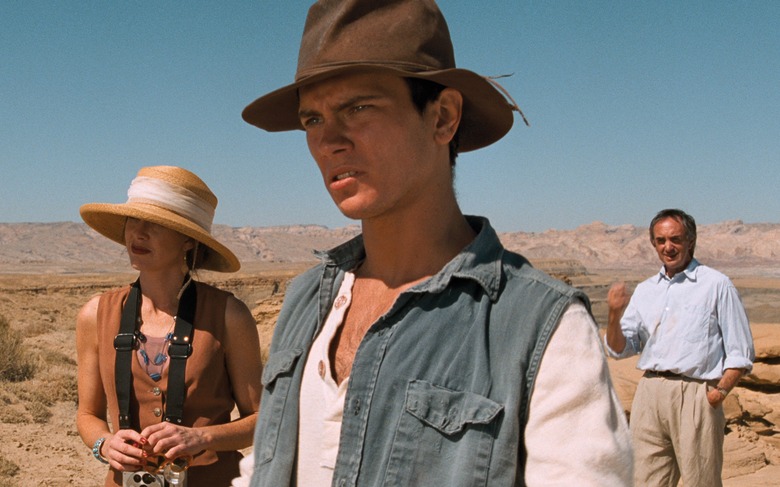 Over twenty years after his death, River Phoenix's final film is finally getting a release. Dark Blood, directed by George Sluizer, has just been scooped up by Lionsgate for VOD distribution in the near future.
The thriller follows Boy (Phoenix), who leads an isolated life in the desert. When a vacationing couple (Jonathan Pryce and Judy Davis) come asking for help after their car breaks down near his home, Boy develops an unhealthy relationship with the wife. Watch the Dark Blood trailer after the jump.
Dark Blood was in the middle of production when Phoenix passed away in 1993. The film was subsequently "declared impossible to finish," according to Sluizer, and scrapped. But a few years ago, Sluizer announced that he'd hidden some of the footage and now wanted to complete the film.
Naturally, finishing the film meant making some changes to account for Phoenix's absence. "The negatives were still good but part of the sound needed to be rebuilt and re-recorded," he said. "And only 65 percent of the story was shot...so I had to rewrite the story." Initially, he had hopes that the Phoenix family would help with the project, but they've since said they want no involvement in the movie.
Dark Blood has been making the festival rounds for the past couple of years, and will finally get a U.S. release (on VOD) thanks to Lionsgate. The studio picked up the project at Cannes earlier this month.
Dark Blood tells the story of Boy (River Phoenix) a young widower who retreats to the desert after his wife dies of radiation following nuclear tests near their home. Boy is waiting for the end of the world and carves Katchina dolls that supposedly contain magical powers. Harry (Jonathan Pryce) and Buffy (Judy Davis) travel to the desert on a second honeymoon in an attempt to save their marriage. Their Bentley breaks down in the middle of nowhere and the couple is rescued by Boy. Boy holds them prisoner because of his desire for the woman and his ambition to create a better world with her.