Rumor: Edgar Wright Left Marvel's 'Ant-Man' Over Major Script Rewrite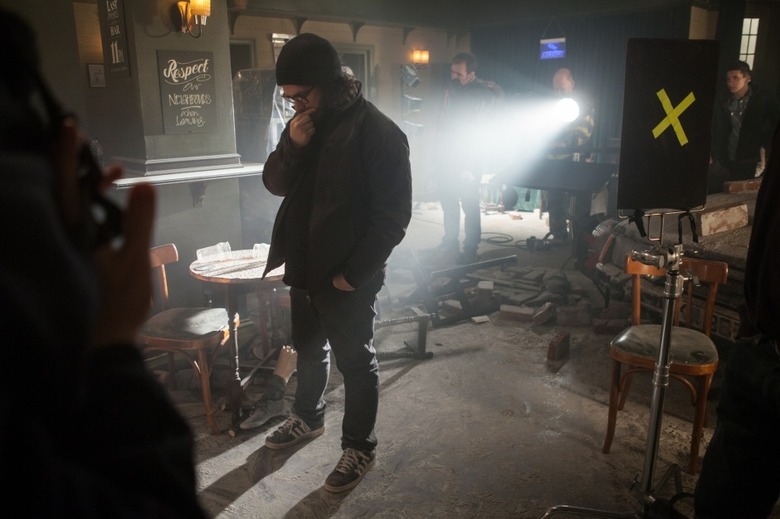 We interrupt your Memorial Day weekend for a potential update on Friday's biggest story.
Late Friday afternoon Marvel announced director Edgar Wright left Ant-Man, a film he'd been attached to since 2006, "due to differences in their vision of the film." The statement said "The decision to move on is amicable and does not impact the release date on July 17, 2015. A new director will be announced shortly."
That made the reason for Wright's departure seem benign. However a new, unconfirmed report goes against that. Latino Review reports the reason Wright left the project is Marvel hired two writers to "homogenize" his and Joe Cornish's script and the result was so unlike the film they wanted to make, he left. Is this true? Well, Joss Whedon and Simon Pegg might have some clues. Read much more below.
The report comes from Latino Review which, despite what many readers think, has very good sources at Marvel and elsewhere. However, since this informations doesn't come directly from Marvel or Wright, it's impossible to consider this 100% fact just yet. Nevertheless, some of what's below is part of the rumors floating around blogger back channels Friday afternoon. Wright wasn't available for comment and Marvel pointed us to their original statement.
The gist of the Latino Review story is as follows. Basically, a few months ago Marvel came to Wright and Cornish with some major notes on the script. These were "about the core morality of the piece, must include franchise characters. etc." The pair did two drafts to simultaneously address these issues while also keeping the film theirs. Unfortunately, Marvel didn't like the compromise and hired "two very low credit writers" to do their own pass. When this draft came in, it was not Wright's movie anymore. Everything he'd been doing for years was gone in favor of something of a lesser stock, and he left the project.
Two of the other big rumors floating around are that Wright was fired and Wright was fired because he was behind schedule and pre-production was going poorly. Latino Review says these rumors are not true. They also say the actors attached to the script don't have the same option as Wright.
So is this what happened? Until Marvel or Wright come out and clear the air, we can't say for sure. Maybe this story will force one or the other to come out and make a statement. However, some people associated with Marvel and Wright are speaking out and their veiled responses could be construed as defenses of this story.
Incredibly proud of my friend @edgarwright, this morning as I am always.

— Pegg News (@simonpegg) May 24, 2014


That's Marvel creative machine, Avengers: Age of Ultron writer/director and Edgar Wright fan Joss Whedon seemingly holding up a cornetto in solidarity for Wright and Wright's long time friend and collaborator, Simon Pegg, saying he's proud of him. Why would Pegg be proud if he left over something unrelated to Wright's integrity? Also of note, one of Wright's only actions on Twitter in the last 24 hours has been a retweet of Whedon's tweet.
And Guardians of the Galaxy director James Gunn also posted the following to Facebook.
Sometimes you have friends in a relationship. You love each of them dearly as individuals and think they're amazing people. When they talk to you about their troubles, you do everything you can to support them, to keep them together, because if you love them both so much doesn't it make sense they should love each other? But little by little you realize, at heart, they aren't meant to be together – not because there's anything wrong with either of them, but they just don't have personalities that mesh in a comfortable way. They don't make each other happy. Although it's sad to see them split, when they do, you're surprisingly relieved, and excited to see where their lives take them next.
It's easy to try to make one party "right" and another party "wrong" when a breakup happens, but it often isn't that simple. Or perhaps it's even more simple than that – not everyone belongs in a relationship together. It doesn't mean they're not wonderful people.
And that's true of both Edgar Wright and Marvel. One of them isn't a person, but I think you get what I mean.
While all of this sounds plausible in the Hollywood sense of things, it's curious in the Marvel sense of things. Like some of the tweets we highlighted Friday said, why would Marvel suddenly have a problem with Wright's work? They seemed to be fine with it for the better part of a decade. Could Marvel's continued, massive success finally resulted in them losing the out-of-the-box, roll-the-dice sensibilities that have made them so popular in the past? You'd hope not. You'd hope they'd keep plugging away and innovating. Their unique way of making movies for the masses has been a beacon of hope among film fans everywhere. If all of a sudden they've lost their nerve to make something different, say a Paul Rudd miniature superhero movie with a kick-ass soundtrack and whip pans, that could be a sign of larger issues to come.
What are your thoughts on Edgar Wright's departure from Ant-Man? Does any of this sound plausible to you?