VOTD: 'Let's Go To The Movies With Patton Oswalt'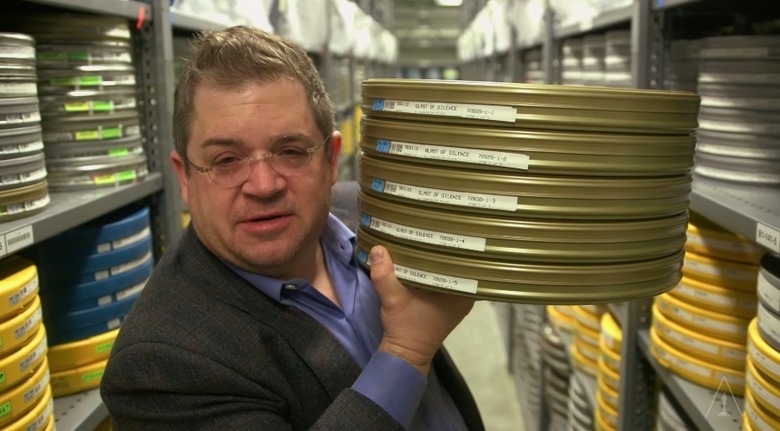 Plenty of comedians reference pop culture, but few are better at actually talking about pop culture than Patton Oswalt. Whether he's taking George Lucas to task or imagining a Star Wars / Marvel mega-crossover, his affection for all things geeky comes through loud and clear.
Now, the Academy of Motion Picture Arts and Sciences is taking advantage of his film knowledge with a new web series called Let's Go to the Movies with Patton Oswalt. In the first episode, he's given the opportunity to screen any movie from the Academy Film Archive. He chooses to watch the 1961 noir Blast of Silence with his friend, comedian Karen Kilgariff. Afterward, they head to the thematically appropriate Shaky Alibi cafe to discuss it.
Watch their delightful conversation after the jump.
For reference, here's a trailer for Blast of Silence, which centers on a Cleveland hitman trying to complete an assignment in Manhattan during Christmastime.
Much has been made of AMPAS' attempts to court a younger audience by getting people like James Franco, Anne Hathaway, and Seth MacFarlane to host the Oscars. But Let's Go to the Movies with Patton Oswalt seems like a far more interesting way to appeal to budding cinephiles than a boob joke set to music.
A six-minute video isn't really the place to go for in-depth analysis, especially when a good chunk of it is devoted to Oswalt fondly reminiscing about the New Beverly or cursing Cleopatra. Still, it's a pleasure to revisit the film "with" Oswalt and Kilgariff. If it gets people interested in Blast of Silence in particular or noir classics in general, all the better.
The video is part of AMPAS' new "Academy Originals" series. Other recently released videos focused on how the blind enjoy movies and the creative process of Peeples director Tina Gordon Chism. Keep an eye on the Academy's YouTube channel for more new installments.