'Sin City: A Dame To Kill For' Character Posters: Meet The Locals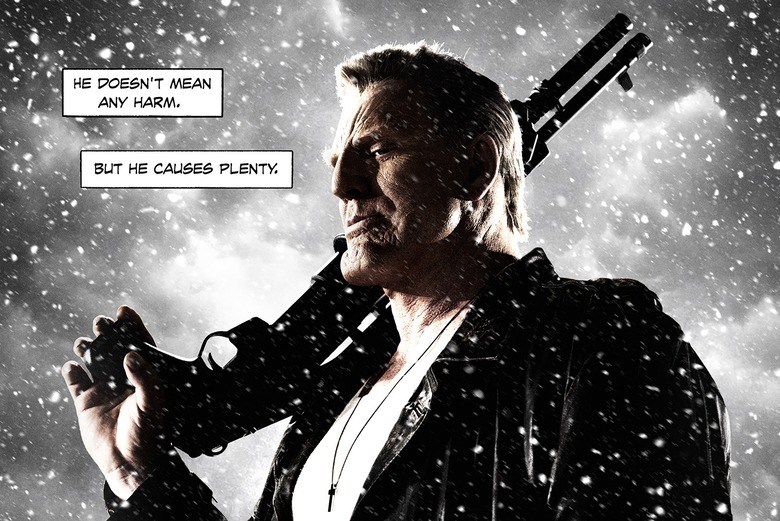 Nearly a decade has passed since the last time we dropped in on Sin City, but it doesn't look like a whole lot has changed since then. Life looks as grim and brutal as ever in Sin City: A Dame to Kill For, which follows four noirish storylines as they unfold across the city.
Today, we have five new Sin City: A Dame to Kill For character posters to (re)introduce you the town's gun-toting, knife-wielding residents, including Nancy (Jessica Alba), Marv (Mickey Rourke), Gail (Rosario Dawson), Dwight (Josh Brolin) and Johnny (Joseph Gordon-Levitt). Check 'em out after the jump.
The official synopsis reads as follows:
Co-directors Robert Rodriguez and Frank Miller reunite to bring Miller's visually stunning "Sin City" graphic novels back to the screen in Sin City: A Dame to Kill For. Weaving together two of Miller's classic stories with new tales, the town's most hard boiled citizens cross paths with some of its more notorious inhabitants. Sin City: A Dame to Kill For is the follow up to Rodriguez and Miller's 2005 groundbreaking film, Frank Miller's Sin City.
Which isn't terribly revealing, but we've heard a few more details over the years. The two tales based on the comic books are "A Dame to Kill For," in which Dwight re-encounters his femme fatale ex (Eva Green) and "Just Another Saturday Night," in which Marv gets tangled up with some bad kids.
Johnny gets his own original yarn, "The Long, Bad Night," about the consequences of beating the wrong guy at his own game. Finally, Nancy rounds out the quartet of vignettes as she goes on the run from Senator Roark (Powers Boothe) and his thugs.
Directed by Robert Rodriguez and Frank Miller, Sin City: A Dame to Kill For opens August 22.