Exclusive 'They Came Together' Clip: Office Shenanigans Go Bad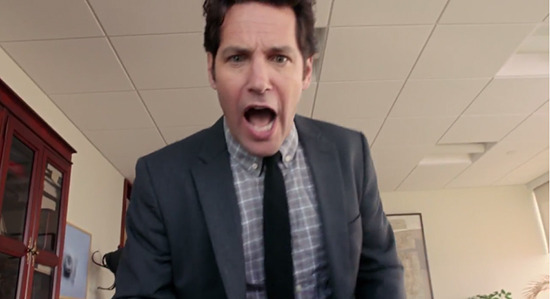 Director David Wain (Wet Hot American Summer, Wanderlust) returns this year with a send-up of romcoms called They Came Together. The film stars Paul Rudd and Amy Pohler as a couple who finds one another, and then maybe also finds some other people, while working at a candy company. Today we've got an exclusive They Came Together clip, showing what happens when Rudd and Jason Mantzoukas engage in some office shenanigans. Things don't go well, and when their smarmy co-worker Trevor (Michael Ian Black) saunters in, things don't get any better.
Also, why is there a little candy dish offering unwrapped condoms? What a great office!
They Came Together opens in theaters and on VOD June 27.
When Joel (Paul Rudd) and Molly (Amy Poehler) meet, it's hate at first sight: his big Corporate Candy Company threatens to shut down her quirky indie candy shop. Plus, Joel is hung up on his sexy ex (Cobie Smulders). But amazingly, they fall in love, until they break up about two thirds of the way through, and Molly starts dating her accountant (Ed Helms). But then right at the end...well you'll just have to see. (Hint: Joel makes a big speech and they get back together.) From the director of Wet Hot American Summer, Wanderlust and Role Models comes a hilarious and irreverent subversion of the romantic comedy genre.