'Magic In The Moonlight' Trailer: Emma Stone Is Woody Allen's Latest Muse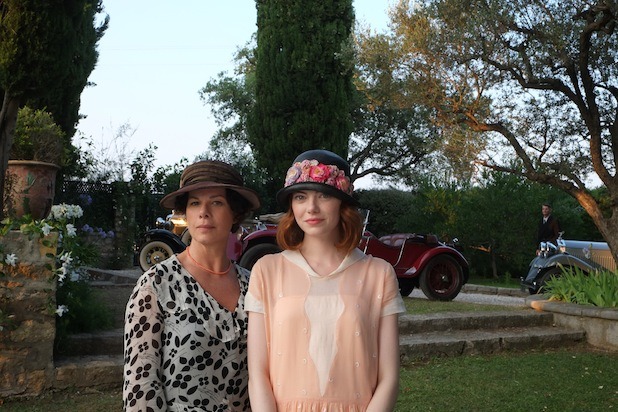 2014 is turning out to be a big year for Emma Stone. She's already had one big hit in The Amazing Spider-Man 2, and has projects with Cameron Crowe and Alejandro González Iñárritu opening later this year. In between, she stars in Magic in the Moonlight, the latest from the prolific Woody Allen.
The Jazz Age dramedy stars Stone as a spirit medium who has won over a wealthy family in the South of France. Not everyone is totally convinced of her supernatural talents, though, and a stage magician (Colin Firth) is sent to debunk her. (So he's a bit inspired by Harry Houdini, then?) Watch the first Magic in the Moonlight trailer after the jump.
Allen's last release, Blue Jasmine, proved a stunning showcase for lead actress Cate Blanchett. With any luck, Magic in the Moonlight could do the same for Stone. Sure, she's great as Gwen Stacy in the Amazing Spider-Man series, but it's lovely to see her take on a more central role here.
And she takes full advantage of the opportunity. Stone appears to be at her most winning, and Firth matches her charm with some smolder of his own. Their characters' goals may be diametrically opposed, but who could fault these two for falling in love?
Magic in the Moonlight opens July 25. Marcia Gay Harden, Hamish Linklater, and Jackie Weaver also star.
Once again, Woody Allen has put together a stellar cast including Eileen Atkins, Colin Firth, Marcia Gay Harden, Hamish Linklater, Simon McBurney, Emma Stone, and Jacki Weaver. MAGIC IN THE MOONLIGHT is a romantic comedy about an Englishman brought in to help unmask a possible swindle. Personal and professional complications ensue. The film is set in the south of France in the 1920s against a backdrop of wealthy mansions, the Côte d'Azur, jazz joints and fashionable spots for the wealthy of the Jazz Age.