'The Search' Trailer: Michel Hazanavicius Follows 'The Artist' With A Wartime Drama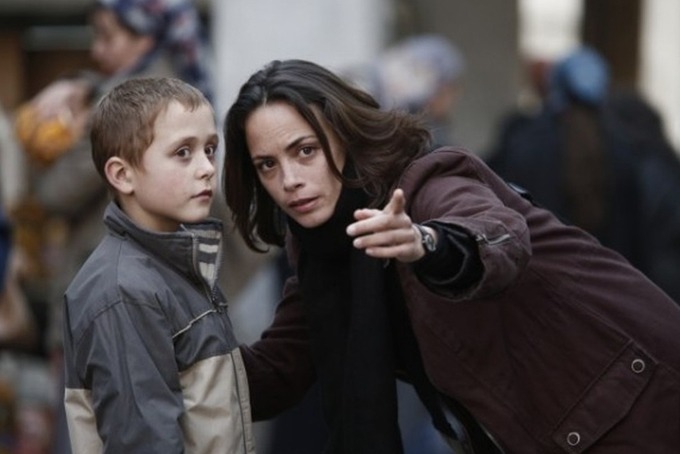 2012 Best Picture winner The Artist was a lighthearted and joyous celebration of cinema. But for their next project together, The Artist director Michel Hazanavicus and star Bérénice Bejo are foraying into much heavier, grimmer territory.
The Search is a remake of the 1948 film of the same title, with the setting changed from post-WWII Berlin to the Second Chechen War. At the center of the story are a young boy (Abdul Khalim Mamutsiev) and his older sister (Zukhra Duishvili), who try to find each other amidst the destruction.
Bejo plays an NGO worker who tries to help him out, and Annette Bening an orphanage director. Maksim Emelyanov rounds out the main cast as a young Russian Army recruit. Watch the first The Search trailer after the jump.
[Warner Bros. France via The Playlist]
It looks powerful and complicated and tragic, and perhaps like the kind of thing that might bring Hazanavicius and Bejo back to the Academy Awards in 2015. We'll have a better sense of what Hazanavicius has accomplished after The Search premieres at the Cannes Film Festival this week. It'll likely open in the U.S. later this year.
The Second Chechen War. 1999. THE SEARCH recounts, on a human scale, a powerful story of conflict told through four lives that will be brought together by a shocking twist of fate.
After his parents are killed in their village, a small boy flees, joining the flood of refugees. He meets Carole, a European Union delegation head and little by little, with her help, he will return to life. At the same time, his elder sister Raïssa searches tirelessly for him amongst the civilian exodus.
Then there's 20-year-old Kolia... A recent Russian Army recruit, he will gradually be overwhelmed by the daily life of wartime.