'Happy Christmas' Trailer: Anna Kendrick Rings In The Holidays With Joe Swanberg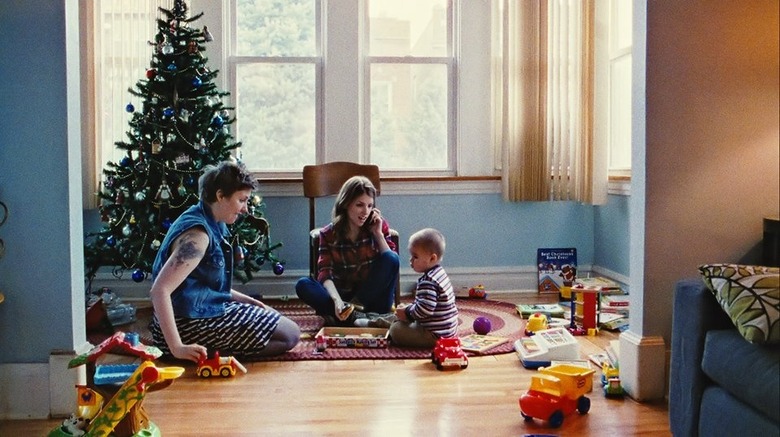 Holidays can be a trying time even for the happiest, most well-adjusted of families. When one of the family members is kind of a screw-up, they can be even tougher. But that doesn't mean you can't still find some joy in being together.
In the new Happy Christmas trailer, Anna Kendrick plays an irresponsible 20something named Jenny who moves in with her film director brother (Joe Swanberg, who also directed this film), his novelist wife (Melanie Lynskey), and their two-year-old son. Mark Webber stars as the couple's babysitter/pot dealer, and Lena Dunham as Kendrick's friend. Hit the jump to watch the first Happy Christmas trailer.
Happy Christmas is the second team-up for Swanberg and Kendrick, after last year's Drinking Buddies. It looks to be in a similar vein — loose but not unfocused, with a winning, naturalistic warmth. Only this time, Kendrick gets to be the sloppy one instead of the mature, put-together one.
Their professional relationship isn't coming to an end anytime soon, either. She also stars in his Digging for Fire, which wrapped production just a few weeks ago. That one reunites the pair with Drinking Buddies' Jake Johnson, and also stars Rosemarie DeWitt, Sam Rockwell, and Brie Larson.
Happy Christmas lands on VOD and iTunes June 26, and in theaters July 25.
When Jenny (Anna Kendrick), a hard partying 20-something, moves in with Kelly (Melanie Lynskey), a budding novelist, her film director husband (Joe Swanberg) and their two-year-old son after a break up, the family's idyllic life is shaken. Jenny begins a rocky relationship with their baby sitter-cum-pot dealer (Mark Webber), and she and a friend, Carson (Lena Dunham), bring Kelly to the realization that an evolution in her life, career and relationship is necessary for her happiness. A new comedy from the director of DRINKING BUDDIES.