'Big Hero 6' Images: The Tender Tale Of A Boy And His Robot BFF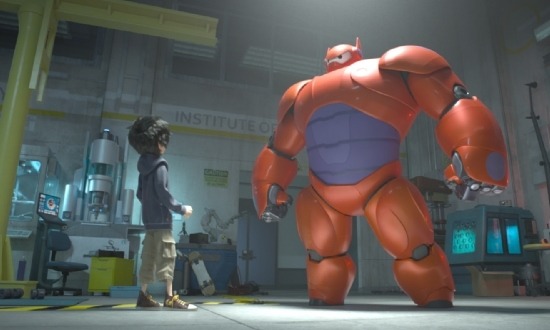 While we still have a couple of days to wait for the first trailer for Big Hero 6, we do have a new look at the movie today thanks to some cool-looking stills. The first big Marvel movie from Disney Animation centers on a young robotics prodigy named Hiro Hamada who forms his own superhero team to save his hometown of San Fransokyo.
One of the key members of that team is Baymax, a robot who's also Hiro's BFF and protector. The new Big Hero 6 images show how Hiro turns Baymax from a big, soft blob into a "meched-out super robot." Check 'em out after the jump.
Hiro and Baymax form their special bond after the former loses his brother. Baymax helps heal Hiro, who repays the favor by building Baymax special armor. The two then recruit others to form a superhero team to protect the city from a villain.
Among their new teammates are comic book fanboy Fred, who can turn himself into the Godzilla-esque Fredzilla; bike messenger Go Go Tomago, who can transform into a ball of energy; barista Honey Lemon, who has access to other dimensions; and sushi chef Wasabi No Ginger, who can generate knives with his energy.
Big Hero 6 opens November 7. Chris Williams and Don Hall are directing, and the voice cast includes T.J. Miller, Maya Rudolph, and Jamie Chung.
From Walt Disney Animation Studios comes "Big Hero 6," an action comedy adventure about brilliant robotics prodigy Hiro Hamada, who finds himself in the grips of a criminal plot that threatens to destroy the fast-paced, high-tech city of San Fransokyo. With the help of his closest companion—a robot named Baymax—Hiro joins forces with a reluctant team of first-time crime fighters on a mission to save their city. Inspired by the Marvel comics of the same name, and featuring comic-book style action and all the heart and humor audiences expect from Walt Disney Animation Studios, the CG-animated "Big Hero 6" hits theaters in 3D on November 7, 2014.