Renny Harlin Directing Jackie Chan In 'Skiptrace'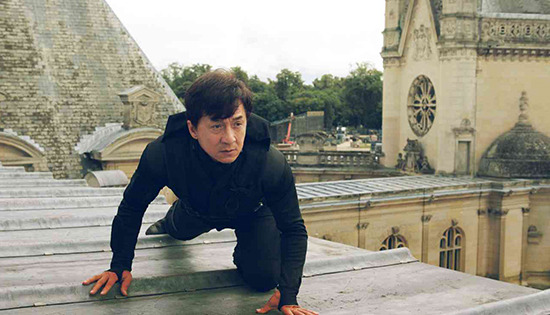 Jackie Chan isn't yet ready to become Expendable, because he's busy making his own big action films. One project he's been developing is called Skiptrace, and features Jackie and Seann William Scott in a globe-trotting action buddy comedy. Now Renny Harlin (Die Hard 2, The Long Kiss Goodnight) will direct the film, with a shoot planned for later this summer. Fan Bingbing (Iron Man 3, X-Men: Days of Future Past) will also appear.
A press release from Bloom, which is now selling the picture at Cannes, announced that Skiptrace will shoot starting on August 11. Sam Fell (Paranorman) was previously set to direct, but Harlin replaced him over the past couple months.
SKIPTRACE follows a Hong Kong detective Bennie Black (Chan), who has been tracking a dangerous crime boss, Victor Wong, for over a decade. When Bennie's beautiful young niece Bai (Fan Bingbing) gets into trouble with Wong's crime syndicate, he comes to the rescue and must track down the only man who can help her – a fast-talking American gambler named Connor Watts (Scott) who is also on the run from the mob. The unlikely pair embarks on a hilarious adventure from the wind swept dunes of the Gobi Desert to the rocky spires of the Huangshan Mountains.
The first draft of Skiptrace came from Jay Longino, from a story idea by Jackie Chan. Brian Gatewood & Alessandro Tanaka, and then Geoff Moore & David Posmentier also worked on the script, though the most recent draft is written by BenDavid Grabinski.Talent International and Dasym Entertainment will produce along with Jackie Chan, Esmond Ren, Charlie Coker, Damien Saccani and David Gerson. The film is financed by Talent International and Dasym Entertainment (a subsidiary of Dasym Investment Strategies B.V., Exclusive Media's parent company).