Star Wars Weekends 2014: Stormtroopers Sing 'Let It Go', Peter Maythew & Ahmed Best Interviews, Star Wars Fireworks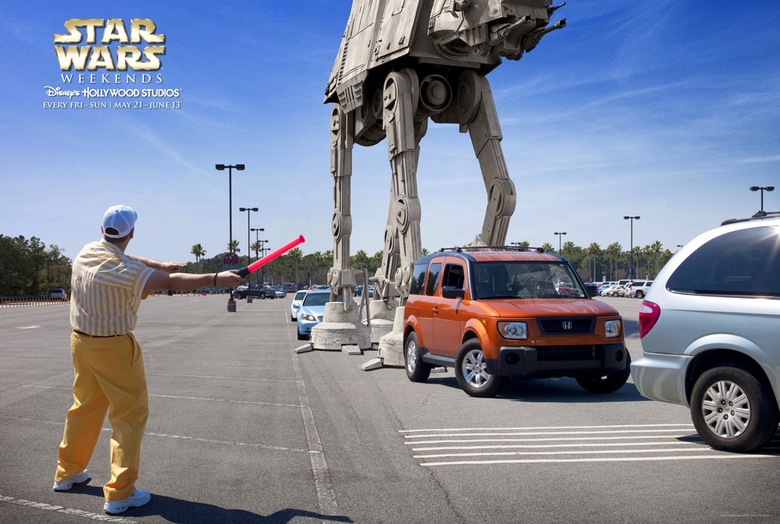 Star Wars Weekends 2014 kicked off this past weekend and we have a bunch of videos for you Star Wars fans. On Friday we posted a full video of the Star Wars Weekends 2014 Parade and earlier this morning we included JJ Abrams' surprise video message to Star Wars Weekends in a post about his note to Episode 7 cast and crew.
After the jump we have a bunch of new videos for you including the Star Wars Weekends on stage interviews with Chewbacca actor Peter Mayhew and Jar Jar Binks actor Ahmed Best. Mayhew talks about his efforts to walk again, how the first time he read the Star Wars: Episode VII was during that cast script reading and how JJ Abrams wants to make a film closer to the original trilogy, and more. Inside The Magic also caught on video the special Symphony in the Stars fireworks show at Disney's Hollywood Studios in Walt Disney World, which is a whole firework show set to the music of Star Wars.
Another video captures one of the skits performed before the Stars of the Saga talk show, featuring a troop of Stormtroopers danced to their favorite playlists from Earth including a bunch of popular songs from today like Let It Go from Frozen and Everything is Awesome from the LEGO Movie. Watch all of that and more, after the jump.
Star Wars Weekends On Stage Interview: Chewbacca actor Peter Mayhew
Stormtroopers Dance and Sing Frozen and Other Pop Songs
Star Wars Weekends On Stage Interview: Jar Jar Binks actor Ahmed Best
Symphony in the Stars Fireworks Show 2014
Again thanks to our friends at Inside The Magic for capturing all this on video and making it available to watch online.