'Hellion' Trailer: Aaron Paul Is A Bad Dad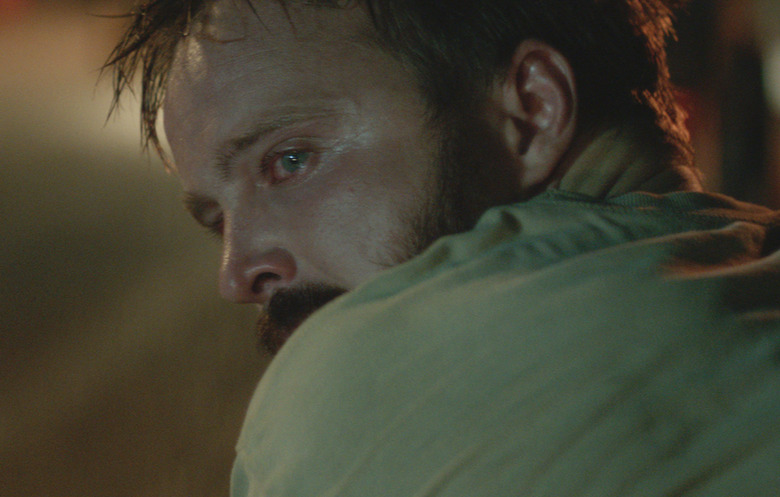 During his time on Breaking Bad, Aaron Paul seems to have mastered the art of playing sympathetic screw-ups. He plays yet another one in the upcoming Hellion, which debuted at Sundance earlier this year.
Written and directed by Kat Candler, the bleak drama centers around single dad Hollis (Paul) and the two sons he's barely raising — teenage Jacob (Josh Wiggins) and the younger Wes (Deke Garner). When Wes gets taken away by Child Protective Services, Hollis and Jacob must take responsibility to bring him back. Watch the Hellion trailer after the jump.
Hellion looks like pretty standard indie fare in a lot of ways. It's a coming-of-age tale and a fathers-and-sons story, and there's a thick cloud of grit and angst laid over all of it. Even the camerawork looks familiar — Hellion looks a lot like Short Term 12, which cinematographer Brett Pawlak also shot. But it may be worth checking out for the performances, by Paul and especially by Wiggins. The latter is making his feature debut on this film, and has drawn tons of praise already.Hellion will be available in theaters and on VOD June 13. Juliette Lewis also stars, as the concerned aunt to the two boys.
Breaking Bad's Aaron Paul stars in this riveting drama about a family under siege. Hard-drinking Texas single dad Hollis (Paul) struggles to raise his two boys, including rebellious teenager Jacob (first-time actor Josh Wiggins in a stunning breakthrough performance). Seething with anger, Jacob finds release in the high-risk, white-knuckle world of motocross—but his increasingly reckless behavior threatens to spin out of control. Academy Award nominee Juliette Lewis co-stars in this thrilling saga of fathers and sons that builds towards a heart-stopping climax, all set to an electrifying heavy metal soundtrack.