POTD: J.J. Abrams' Notes To 'Star Wars Episode VII' Crew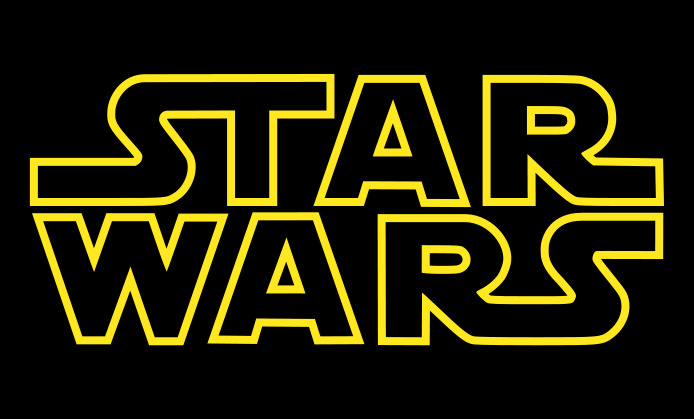 Back on May 19th 2014 we shared with you a photo of JJ Abrams' note to the cast and crew of Star Wars Episode VII. Well now that filming is wrapping up, JJ and the other producers have sent out a slightly less personal (that is: not handwritten) note to the cast and crew on their final day of work. See that note, after the jump.
The following comes from James Rose. Note the Episode VII crew hat in the background: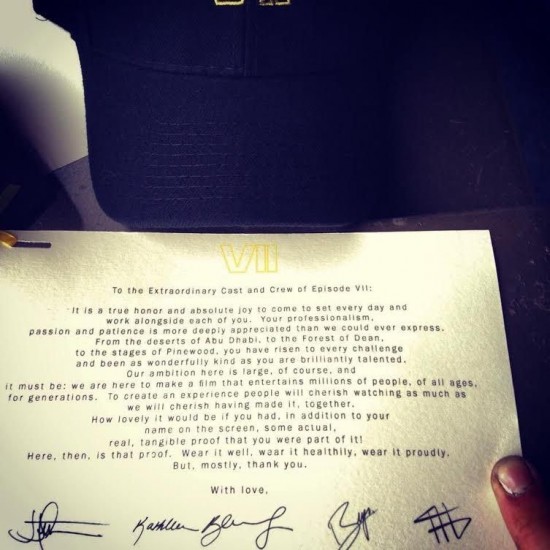 The note reads:
To the Extraordinary Cast and Crew of Episode VII:It is a true honor and absolute joy to come to set every day and work alongside each of you. Your professionalism, passion and patience is more deeply appreciated than we could ever express. From the deserts of Abu Dhabi, to the Forest of Dean, to the stages of Pinewood, you have risen to every challenge and been as wonderfully kind as you are brilliantly talented. Our ambition here is large, of course, and it must be: we are here to make a film that entertains millions of people, of all ages, for generations. To create an experience people will cherish watching as much as we will cherish having made it, together. How lovely it would be if you had, in addition to your name on the screen, some actual real tangible proof that you were part of it! Here, then, is that proof. Wear it well, wear it healthily, wear it proudly. But, mostly, thank you.With Love,JJ Abrams   Kathleen Kennedy   Bryan Burke
The original post by Russ Fischer featuring JJ Abrams' original note from May 19th 2014 follows:
We recently saw the first couple photos from filming on Star Wars Episode VII, and now a new image has surfaced. This one does not show a set or a costume, or even a physical place. It is a note from J. J. Abrams to the crew (and likely intended to be read by all of us) that features a bit of wry humor: "Amazing but true: the world awaits this film." Check out the note below.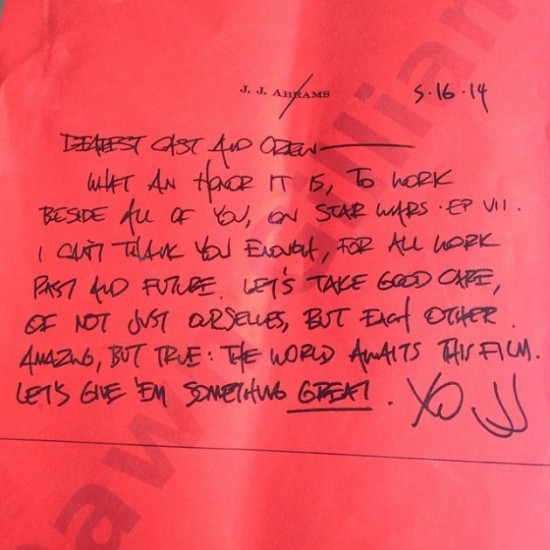 In case the handwriting gives you pause here's a transcription via ScreenCrush:
Dearest Cast and Crew, What an honor it is to work beside all of you, on Star Wars Ep VII. I can't thank you enough, for all work past and future. Let's take good care of not just ourselves, but of each other. Amazing, but true: the world awaits this film. Let's give 'em something GREAT. xo JJ
As a bonus, here's the video message Abrams sent along for the Stars of the Saga talk show at Star Wars Weekends at Walt Disney World:
Star Wars: Episode VII opens on December 18, 2015. The cast features John Boyega, Daisy Ridley, Adam Driver, Oscar Isaac, Andy Serkis, Domhnall Gleeson, and Max von Sydow will join the original stars of the saga, Harrison Ford, Carrie Fisher, Mark Hamill, Anthony Daniels, Peter Mayhew, and Kenny Baker.