'Foxcatcher' Early Buzz And Teaser: Bennett Miller At His Best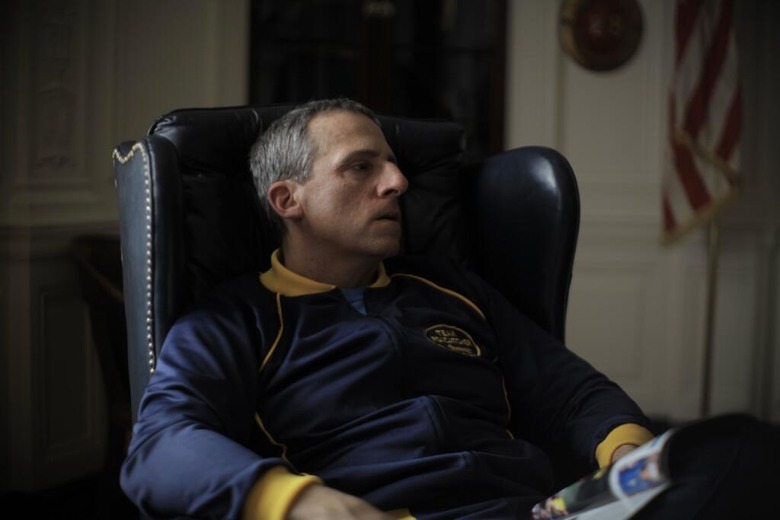 It's far too early to throw around phrases like "best of the year." But it's not too early for the phrase "best of Cannes," and superlative reviews for Foxcatcher suggest that the Bennett Miller drama has already earned that label.
Steve Carell reportedly puts in a career-changing performance as eccentric millionaire John du Pont, who becomes the benefactor to two American wrestlers — brothers Dave (Mark Ruffalo) and Mark Schulz (Channing Tatum). The real-life tragedy that took place between them makes for a sensational story, but Foxcatcher, by all accounts, is more of a slow burn, and all the better for it.
Hit the jump to get the Foxcatcher early buzz, plus a new teaser.
And now, on to the overwhelmingly positive reviews...
THR:
Centered on an astonishing and utterly unexpected serious turn by Steve Carell, this beautifully modulated work has a great deal on its mind about America's privileged class, usurious relationships, men's ways of proving themselves, brotherly bonds and how deeply sublimated urges can assert themselves in most unsavory ways. Yet another adventurous, first-class production from Annapurna Pictures, the Sony Pictures Classics release has everything going for it to prevail as one of the major prestige titles of late 2014.
[T]his insidiously gripping psychological drama is a model of bleak, bruising, furiously concentrated storytelling, anchored by exceptional performances from Channing Tatum, Mark Ruffalo and an almost unrecognizable Steve Carell.
The film's heat is set to low simmer as you head for the climax — and because the story is pulled from real-life headlines, viewers will likely know what's coming. But Miller, with three films so far, usually saves his best for the last few minutes of his movies, and "Foxcatcher" is no exception.
You wait and you wait and you wait, and then it pays off. The pay-off here is more subtle than you might expect. But it is far more haunting, because this is a story that doesn't have closure or uplift. Lives are ruined.
The will to win has rarely seemed more self-defeating than it does in "Foxcatcher," a sinuous, methodical true-crime drama in which the moral and psychological rot sets in long before any crime is committed. Just as Bennett Miller's first two features, "Capote" and "Moneyball," were portraits of coolly driven individuals possessed by their own most projects, so is this remarkable film — a study of sociopathic billionaire John du Pont's quest to annex as much of America's wrestling empire as money and ego could buy. But whether Miller's previous films culminated, however tortuously, in creation — of a landmark book, a formula that changes the future of baseball — aspiration here results only in lives literally and spiritually destroyed.
The performances by Tatum, Carrell, and Ruffalo build on each other in ways that feel lived-in and authentic, bringing a clarity to these motivations without ever once making a case for why these characters need to make each action. The psychological motivations are exact and clear through Miller's framing of men sitting on a couch, the use of a door, or an unfocused presence in the foreground of the shot that invades the space of another. This is as classic as classic Hollywood gets, but without the banality that has invaded contemporary Hollywood cinema. That Foxcatcher thus becomes a darkened view of the American dream, using one of the country's most effectively exported aesthetics to critique the same, is why the film will quietly disturb audiences without telling them why.
Anyone familiar with the facts behind the film already knows how steep a toll this arrangement would take, but writers Dan Futterman and E. Max Frye convincingly establish the institutional and interpersonal pressures to succeed that would drive each of these men to their fate. When first shown, Mark is grappling with a faceless figure in an empty gym, a canny alignment of the equally physical and psychological burdens to come. (Ever an expert employer of silence, Miller often allows the sounds of the gym to speak louder than words or score: the scuffle of the shoes, the thuds on the mat, the primal grunts of the warriors.)
We've been anticipating 'Foxcatcher' since forever, it feels like, and our expectations were sky high, and yet in almost every way this towering film exceeds them. The sweeping intelligence of Miller's enormous movie feels like it will be feeding our minds for days to come and as the best of his films, it is also simply one of the best dramas dissecting contemporary America (despite its period) that we've ever seen.
Foxcatcher premieres November 14.
Based on true events, FOXCATCHER tells the dark and fascinating story of the unlikely and ultimately tragic relationship between an eccentric multi-millionaire and two champion wrestlers.
When Olympic Gold Medal winning wrestler Mark Schultz (Channing Tatum) is invited by wealthy heir John du Pont (Steve Carell) to move on to the du Pont estate and help form a team to train for the 1988 Seoul Olympics at his new state-of-the-art training facility, Schultz jumps at the opportunity, hoping to focus on his training and finally step out of the shadow of his revered brother, Dave (Mark Ruffalo). Driven by hidden needs, du Pont sees backing Schultz's bid for Gold and the chance to "coach" a world-class wrestling team as an opportunity to gain the elusive respect of his peers and, more importantly, his disapproving mother (Vanessa Redgrave).
Flattered by the attention and entranced by du Pont's majestic world, Mark comes to see his benefactor as a father figure and grows increasingly dependent on him for approval. Though initially supportive, du Pont's mercurial personality turns and he begins to lure Mark into an unhealthy lifestyle that threatens to undermine his training. Soon du Pont's erratic behavior and cruel psychological game-play begin to erode the athlete's already shaky self-esteem. Meanwhile du Pont becomes fixated on Dave, who exudes the confidence both he and Mark lack, knowing that these are things even his money cannot buy. Fueled by du Pont's increasing paranoia and alienation from the brothers, the trio is propelled towards a tragedy no one could have foreseen.
FOXCATCHER is a rich and moving story of brotherly love, misguided loyalty and the corruption and emotional bankruptcy that can accompany great power and wealth. As with Academy Award® nominee Bennett Miller's previous feature films, CAPOTE and MONEYBALL, he explores large themes in society through his complex character portraits of real people.