Watch The Full Star Wars Weekends 2014 Parade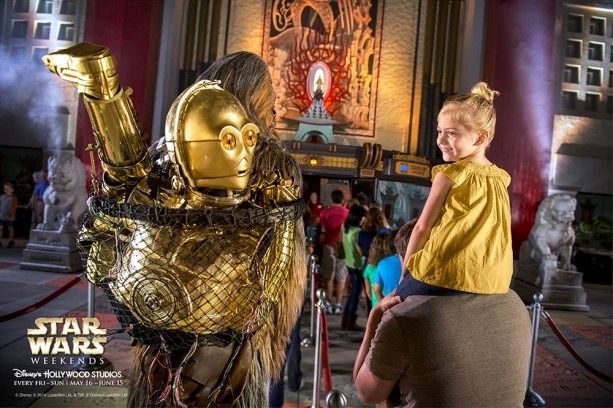 Walt Disney World's Star Wars Weekends 2014 has officially kicked off at Disney's Hollywood Studios today. Attraction Magazine was on hand to catch the opening day festivities, which includes the Star Wars Weekends 2014 Parade. The parade includes Star Wars special guest celebrities Ahmed Best (Jar Jar Binks) Peter Mayhew (Chewbacca) Vanessa Marshall (Hera Syndulla — Star Wars Rebels), James Arnold Taylor (Obi-Wan Kenobi – Clone Wars) and a ton of Star Wars costumed characters. The parade also features the debut of three new costumed characters from the upcoming Star Wars Rebels animated series: Chopper the droid, Sabine Wren and Ezra Bridger. Members of the 501st Legion of costumed Star Wars fans helped make the parade possible. About 11 minutes into the video is the finale, which is a more theatrical production up on a stage. The full video is online, and you can watch it now after the jump.
Star Wars Weekends 2014 Parade
Star Wars Weekends is taking place every weekend at Disney's Hollywood Studios in Walt Disney World Resort (Valid Park Admission Required) from May 16 – June 15, 2014.
Weekend I: May 16 – 18, 2014
Ahmed Best: Jar Jar Binks (Star Wars: Episode I The Phantom Menace; Star Wars: Episode II Attack of the Clones; Star Wars: Episode III Revenge of the Sith; Star Wars: The Clone Wars)
Peter Mayhew: Chewbacca (Star Wars: Episode III Revenge of the Sith; Star Wars: Episode IV A New Hope; Star Wars: Episode V The Empire Strikes Back; Star Wars: Episode VI Return of the Jedi; Star Wars: The Clone Wars)
Vanessa Marshall: Hera Syndulla (Star Wars Rebels)
Weekend II: May 23 – 25, 2014
Warwick Davis: Wicket W. Warrick (Star Wars: Episode VI Return of the Jedi); Wald (Star Wars: Episode I The Phantom Menace)
Jeremy Bulloch: Boba Fett (Star Wars: Episode V The Empire Strikes Back; Star Wars: Episode VI Return of the Jedi); Capt. Jeremoch Colton (Star Wars: Episode III Revenge of the Sith)
Tiya Sircar: Sabine Wren (Star Wars Rebels)
Weekend III: May 30 – June 1, 2014
Ray Park: Darth Maul (Star Wars: Episode I The Phantom Menace)
John Ratzenberger: Major Bren Derlin (Star Wars: Episode V The Empire Strikes Back)
Taylor Gray: Ezra Bridger (Star Wars Rebels)
Weekend IV: June 6 – 8, 2014
Mark Hamill: Luke Skywalker (Star Wars: Episode IV A New Hope; Star Wars: Episode V The Empire Strikes Back; Star Wars: Episode VI Return of the Jedi); Darth Bane (Star Wars: The Clone Wars)
Ray Park: Darth Maul (Star Wars: Episode I The Phantom Menace)
Billy Dee Williams: Lando Calrissian (Star Wars: Episode V The Empire Strikes Back; Star Wars: Episode VI Return of the Jedi)
Taylor Gray: Ezra Bridger (Star Wars Rebels)
Weekend V: June 13 – 15, 2014
Dee Bradley Baker: Captain Rex/the Clones, Bossk and several additional characters (Star Wars: The Clone Wars)
Cat Taber: Padme Amidala and several additional characters (Star Wars: The Clone Wars)
Tom Kane: Yoda, the series' narrator and several additional characters (Star Wars: The Clone Wars)
Matt Lanter: Anakin Skywalker and several additional characters (Star Wars: The Clone Wars)
Steve Blum: Zeb Orrelios (Star Wars Rebels)