'Foxcatcher' Clip: Steve Carell And Channing Tatum Want The Gold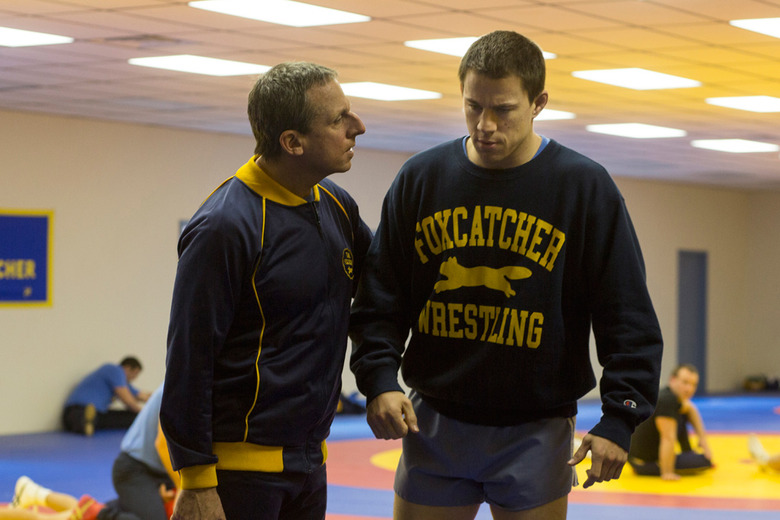 Bennett Miller's Foxcatcher was supposed to be a contender during the last awards season, but then Sony Pictures Classics yanked it off the calendar to give the filmmakers more time. So it's opening this fall instead, and now the first Foxcatcher clip has arrived to show off the fruits of their labor.Steve Carell stars as John du Pont, real-life heir to the DuPont chemical fortune, who takes a world-class wrestler named Mark Schultz (Channing Tatum) under his wing. Their relationship becomes twisted as du Pont manipulates the younger man and displays increasingly erratic behavior. Mark Ruffalo plays Schultz's brother Dave, also a wrestler. Watch the Foxcatcher clip after the jump.
It's obviously impossible to judge a movie based on brief clip, but it's encouraging to see that so far, Foxcatcher looks worth the wait. Carell's transformation is nothing short of shocking. Du Pont is nothing like the well-meaning goofs Carell has played in the past. And knowing where this relationship eventually leads, it's painful to see Tatum's vulnerability in front of him.
Foxcatcher opens November 14.
FOXCATCHER is a psychological drama directed by Academy Award nominee Bennett Miller (MONEYBALL) and starring Golden Globe winner Steve Carell, Channing Tatum, Academy Award nominee Mark Ruffalo, Academy Award winner Vanessa Redgrave and Sienna Miller. The film was written by E. Max Frye and Academy Award nominee Dan Futterman. FOXCATCHER tells the story of Olympic Gold Medal-winning wrestler Mark Schultz (Tatum), who sees a way out from the shadow of his more celebrated wrestling brother Dave (Ruffalo) and a life of poverty when he is summoned by eccentric multi-millionaire John du Pont (Carell) to move onto his estate and train for the 1988 Seoul Olympics. Desperate to gain the respect of his disapproving mother, du Pont begins "coaching" a world-class athletic team and, in the process, lures Mark into dangerous habits, breaks his confidence and drives him into a self-destructive spiral. Based on actual events, FOXCATCHER is a gripping and profoundly American story of fragile men who pinned their hopes for love and redemption on a desperate obsession for greatness that was to end in tragedy.