Watch Trailers For All The New TV Shows Coming Fall 2014 And 2015 [Updated]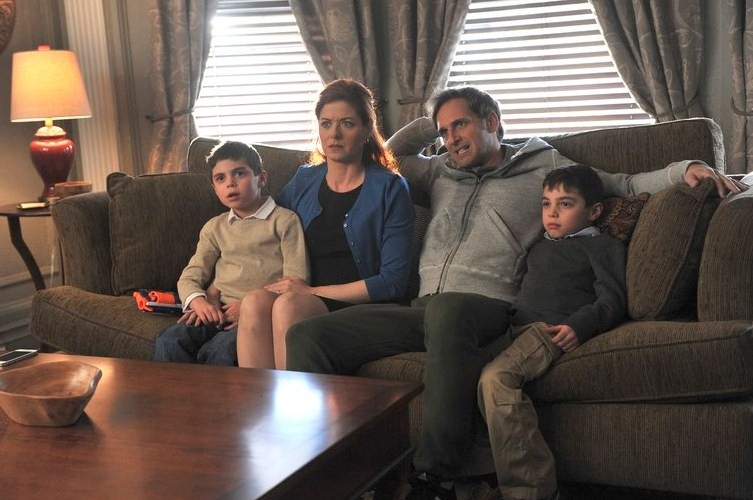 Update: USA Network has released trailers for Rush, Complications and Satisfaction, those three trailers have been added after the jump.
This time of year, the major television networks make a bunch of big presentations in New York City showcasing their new and returning television shows — this is called "upfronts." FOX, ABC, NBC, TNT and TBS have held their presentations and have uploaded trailers for their new television series online for all of you to get a sneak preview. After the jump you can watch 25 28 trailers for television shows set to hit the airs in Fall 2014 and beyond (2015) alongside official plot synopsis, including filmmaker, producer and cast details. Hit the jump and watch some of the Fall 2014 tv trailers and leave your thoughts in the comments below.
Fall 2014 TV Trailers and 2015 TV Trailers
Update: Here are the trailers for the new USA Network series Rush, Complications and Satisfaction. The FOX, ABC, NBC, TNT and TBS trailer appear on the next pages.
USA Network's RUSH examines the world of renegade physician Dr. William P. Rush (Tom Ellis, "Miranda"), a "medical fixer" who privately caters to LA's elite and whose service comes with a hefty price tag. Though the hard-partying doctor claims that he doesn't make judgments about his less-than-squeaky-clean clients, he's not immune to the ugliness that he encounters. From Fox21 ("Homeland") and writer/director Jonathan Levine ("Warm Bodies"), along with Gina Matthews and Grant Scharbo ("Missing," "13 Going on 30") and Executive Producer Adam Fierro ("The Shield"), the series is set to film in Vancouver, Canada.
USA Network's Complications – After wrapping seven seasons of the popular series "Burn Notice," Nix brings his next offering to the network with this gritty medical drama. The project centers around John Ellis, a disillusioned suburban ER doctor, who finds his existence transformed when he intervenes in a drive-by shooting, saving a young boy's life and killing one of his attackers. When he learns the boy is still marked for death he finds himself compelled to save him at any cost and discovers that his life and his outlook on medicine may never be the same. "Complications" is written and executive produced by Nix and is from Fox Television Studios.
USA Network's Satisfaction: A provocative drama that explores modern marriage at its midpoint. Through the lens of one couple, Neil Truman (Matt Passmore, "The Glades") and his wife, Grace (Stephanie Szostak, "The Devil Wears Prada"), this series answers the question, "What do you do when having it all is not enough?" by delving into their shocking and unconventional choices. Michelle DeShon ("Hollywood Heights"), Katherine LaNasa ("The Campaign") and Blair Redford ("Switched at Birth") also star. SATISFACTION is from Universal Cable Productions (UCP) and executive producer/creator Sean Jablonski (SUITS, "Nip Tuck"). Russ Krasnoff ("Community") of Krasnoff/Foster also serves as executive producer. The series is set to film in Atlanta, Georgia.
Fox's 10-episode mystery event series GRACEPOINT follows the tragic death of a young boy, and the major police investigation and nationwide media frenzy that subsequently overtake a picturesque seaside town, where anyone is a suspect.
When a young boy is found dead on an idyllic beach, a major police investigation gets underway in the small California seaside town where the tragedy occurred. Soon deemed a homicide, the case sparks a media frenzy, which throws the boy's family into further turmoil and upends the lives of all of the town's residents. Welcome to GRACEPOINT, a new 10-episode mystery event series based on "Broadchurch," the U.K.'s critically acclaimed hit crime drama. GRACEPOINT is an expansion of the original series, introducing new characters, identifying new suspects and threading new storylines through the gripping narrative. Leading the investigation is Detective EMMETT CARVER (David Tennant, "Broadchurch," "Dr. Who"), who has just arrived in Gracepoint to fill a high position in the town's police force. That job previously had been promised to Detective ELLIE MILLER (Emmy Award winner Anna Gunn, "Breaking Bad"), who, in light of the tragedy, must put any resentment aside and work the case with her prickly new boss. Det. Miller must break the news to her doting husband, JOE (Josh Hamilton, "American Horror Story") and her son, TOM (newcomer Jack Irvine), who was the best friend of the murder victim, DANNY SOLANO (Nikolas Filipovic, "Falling Skies"). Danny is survived by his grieving parents, MARK (Michael Peña, "End of Watch") and BETH SOLANO (Virginia Kull, "Boardwalk Empire"), and his rebellious older sister, CHLOE (newcomer Madalyn Horcher), who has an older boyfriend, DEAN IVERSON (Kendrick Sampson, "The Vampire Diaries"), unbeknownst to her parents. All of Gracepoint is pulled into the investigation, including JACK REINHOLD (Emmy Award nominee and Golden Globe Award winner Nick Nolte, "Luck"), a private man who runs the kayak rental service on the beach, as well as the local wildlife observation program, for which Danny volunteered. SUSAN WRIGHT (Academy Award and Golden Globe Award nominee Jacki Weaver, "Silver Linings Playbook"), a mysterious woman, lives in the RV park near the coast, with her dog. The town's minister, PAUL COATES (Kevin Rankin, "Justified"), becomes the de facto spokesperson for the community as the media descends on Gracepoint. Danny's death also impacts tourism, with the decline in visitors felt most harshly by hotel owner GEMMA FISHER (Sarah-Jane Potts, "Kinky Boots,"), a vivacious Brit with secrets of her own. Also touched by Danny's death is Mark's apprentice at his plumbing company, VINCE NOVIK (Stephen Louis Grush, "Lucky 7"). The investigation is followed closely by the town's local newspaper reporter, OWEN BURKE (Kevin Zegers, "Transamerica"), who is Det. Miller's nephew. Owen's ambition is fueled by San Francisco Globe reporter RENEE CLEMONS (Jessica Lucas, "Cloverfield"), who has a history with Detective Carver and sets up camp in Gracepoint to cover the case. The riveting crime series carves a powerfully dark wake through the town of Gracepoint with a startling conclusion, as the detectives piece together what happened on the night of Danny's death. Produced by Shine America in association with Kudos and Imaginary Friends, GRACEPOINT is executive-produced by Anya Epstein ("In Treatment," "Homicide"); Dan Futterman ("Capote," "In Treatment"); the original series' creator, Chris Chibnall ("Dr. Who," "Camelot"); Kudos' Jane Featherstone ("The Hour," "Utopia"), John Goldwyn ("Dexter"); and Shine America's Carolyn Bernstein ("The Bridge"). Futterman and Epstein serve as showrunners. Chibnall wrote the premiere episode, and James Strong ("Broadchurch," "Downton Abbey") directed.
TNT's Public Morals centers on New York City's Public Morals Division, where cops walk the line between morality and criminality as temptations that come from dealing with all kinds of vice can get the better of them.
Officer Terry Muldoon knows the line between the good guys and bad guys is thin, and he is determined to raise his sons to be honest and hardworking as he deals with the dark underbelly of the vice world.
Executive producer Steven Spielberg presents Public Morals, starring Ed Burns and Michael Rapaport. The show comes to TNT in 2015.
NBC's State of Affairs, premiering this November from Writer/Director Joe Carnahan ("The Blacklist"), comes a high-octane, edge-of-your-seat thriller that could change the way you see politics, the White House and the world at large. Katherine Heigl stars as CIA analyst Charleston Tucker who counsels the President/
NBC's Constantine, premiering Fridays this Fall, is a dark new thriller that proves fighting evil is a hell of a job. Based on the wildly popular comic book series "Hellblazer" from DC Comics, seasoned demon hunter and master of the occult John Constantine specializes in giving hell... hell. Armed with a ferocious knowledge of the dark arts and his wickedly naughty wit, he fights the good fight – or at least he did. With his soul already damned to hell, he's decided to leave his do-gooder life behind. But when demons target Liv, the daughter of one of Constantine's oldest friends, he's reluctantly thrust back into the fray – and he'll do whatever it takes to save her. Before long, it's revealed that Liv's "second sight," an ability to see the worlds behind our world and predict supernatural occurrences, is a threat to a mysterious new evil that's rising in the shadows. And now it's not just Liv who needs protection; the angels are starting to get worried too. So, together, Constantine and Liv must use her power and his skills to travel the country, find the demons that threaten our world – and send them back where they belong. After that, who knows... maybe there's hope for him and his soul after all.
From Executive Producer David S. Goyer ("Batman Begins," "The Dark Knight Rises") and director Neil Marshall ("Game of Thrones," "The Descent") comes a dark new thriller that proves fighting evil is a hell of a job.
The world of ancient Egypt — a time of magic, Pharaohs, gods and thieves — lives again in FOX's new adventure series HIEROGLYPH.
The world of ancient Egypt — a time of magic, Pharaohs, gods and thieves — lives again in HIEROGLYPH, an exciting action-adventure series from creator/executive producer Travis Beacham ("Pacific Rim," "Clash of the Titans"). When a dangerous scroll, The Book of Thresholds, is stolen from Egypt's most secure vault, master thief AMBROSE (Max Brown, "Beauty and the Beast," "MI-5") is plucked from prison to track down the perpetrator. Having spent the past five years in the darkest of pits, Ambrose quickly learns that his prison cell might be safer than the dangerous new world in which he finds himself: Atum, the empire's capital. Ambrose must answer to Pharaoh SHAI KANAKHT (Reece Ritchie, "Prince of Persia: The Sands of Time"), a god in the flesh, a young ruler with a cool charm and a violent, frightening temper. The question for Ambrose is not whether he can trust his new boss, but whether he can trust anyone. Also stalking the halls of the palace is NEFERTARI KANAKHT (Condola Rashad, "Smash," "Steel Magnolias"), half-sister to the Pharaoh, whose relationship with Shai's closest advisor, MAGISTER BEK (guest star Hal Ozsan, "90210"), masks her own designs for power. Finding few leads in the palace, Ambrose's investigation takes him to the doorstep of his long-lost love, PESHET (Caroline Ford, "Lake Placid: The Final Chapter"), a magic-wielding adoratrice, a type of homespun priestess who uses her femininity as a portal to the gods...for the right price. Peshet was the keystone in Ambrose's merry band of thieves, an impressionable youth with great knowledge of magic, a woman who never saw a lock for which she didn't have an unlocking charm. Five years later, Peshet has left her old life behind in a pious pursuit of divine contact. Ambrose's journey also leads him to old friends, such as VOCIFER (John Rhys-Davies, "The Lord of the Rings: The Fellowship of the Rings," "Raiders of the Lost Ark"), a peddler of mystical wares and Ambrose's mentor. But he also comes face-to-face with foes both old and new, from RAWSER (Antony Bunsee, "EastEnders," "Sex and the City 2"), the Pharaoh's captain of the guard, who imprisoned him five years ago; to LOTUS TENRY (Kelsey Chow, "One Tree Hill"), a palace concubine and spy for a rival kingdom. As Ambrose unravels the mystery of The Book of Thresholds, he begins to see the extent to which sorcery has seeped into the halls of power in ancient Egypt, and how close it is to causing this great civilization's downfall. HIEROGLYPH is produced by Chernin Entertainment in association with 20th Century Fox Television. The series is created and written by Travis Beacham. The series is executive-produced by Beacham, Peter Chernin (NEW GIRL, "Touch"), Katherine Pope (NEW GIRL, "Touch") and Anna Fricke ("Being Human," "Men in Trees"). Miguel Sapochnik ("Mind Games," "Repo Men") also serves as an executive producer and directed the pilot.
NBC's A to Z is a Half-hour single-camera comedy premiering Thursdays this Fall, is the A-to-Z story of Andrew (Ben Feldman, "Mad Men") and Zelda (Cristin Milioti, "How I Met Your Mother") – a pair that almost wasn't – and all that happened from the day they met.
This is the A-to-Z story of Andrew (Ben Feldman, "Mad Men") and Zelda (Cristin Milioti, "How I Met Your Mother") – a pair that almost wasn't – and all that happened from the day they met.
Andrew has always been a secret romantic... not above crooning to Celine Dion while driving to work, with dreams of finding "the one." He imagines her to be just like that shimmering beauty he spotted that night in that silver dress at that concert two years ago.
Zelda, having grown up with a hippie mom who believed the universe would provide for everything, rebelled into a no-nonsense practical lawyer who prefers the control of online dating.
But when a computer glitch sends her a total mismatch, she's asked to come in for an interview at the Internet dating service where Andrew works, and this is where it all begins. Andrew and Zelda meet for the first time and despite their differences, sparks fly. She thinks it's chance. He thinks it's fate. After all, he's convinced she's the shimmering girl in the silver dress.
Is it true love forever or just a detour in destiny? Follow along the ins and outs of Andrew and Zelda. From Executive Producer Rashida Jones comes a fresh new comedy about dating in the modern world.
NBC's Marry Me is a half-hour single-camera comedy premiering Tuesdays this Fall, is a fresh new romantic comedy about the funny and often bumpy road between "I will" and "I do." Six years ago, Annie and Jake bonded over their mutual love of nachos, and they've been inseparable ever since. Now, after returning from a romantic two-week island vacation, Jake's all set to pop the question. But before he can ask, Annie lets loose on Jake for his inability to commit. She was expecting him to "put a ring on it" in paradise, dammit! Needless to say, Jake's perfect proposal is ruined.
Not wanting to spend the next 60 years talking about that mess of a proposal, Jake and Annie decide to hold off on the engagement until they can do it right. But if history tells us anything, it's when we really want things to go right that they all tend to go wrong. The only thing we know for sure is these two are destined to be together whether they can get it together or not.
From David Caspe, the creator of "Happy Endings," and Seth Gordon, the director of "The Goldbergs," "Identity Thief" and "Horrible Bosses," comes a fresh new romantic comedy about the funny and often bumpy road between "I will" and "I do."
NBC's Bad Judge is a half-hour single-camera comedy premiering Thursdays this Fall from Executive Producers Will Ferrell and Adam McKay ("Anchorman," "Step Brothers," "Talladega Nights"), comes a sexy new comedy about a judge who always plays by her own rulings.
No excuses, no apologies, no compromises. Wild child Rebecca Wright (Kate Walsh, "Grey's Anatomy," "Private Practice") knows how to have a good time, but she also happens to be one of LA's toughest and most respected criminal court judges. She has a reputation for unorthodox behavior in the courtroom, including creative sentencing and saying exactly what's on her mind.
Her private life, on the other hand, is anything but innocent. She parties too much and rocks out on the drums in a band with her best friend, Jenny. While there's no shortage of male admirers who would love to spend time with her, she's not ready to settle down... except when an eight-year-old boy – whose parents were put in jail by Rebecca – needs her help. He may in fact be the one thing that starts to tame this "bad" judge.
From Executive Producers Will Ferrell and Adam McKay ("Anchorman," "Step Brothers," "Talladega Nights") comes a sexy new comedy about a judge who always plays by her own rulings.
NBC's The Mysteries of Laura is a One-hour drama premiering Wednesdays this Fall, is an action-packed, but lighthearted cop show with a twist, based on the popular Spanish series about one woman's quest to have it all.
Debra Messing ("Will & Grace") stars as Laura Diamond, a brilliant NYPD homicide detective who balances her "Columbo" day job with a crazy family life that includes two unruly twin boys and a soon-to-be ex-husband (Josh Lucas) – also a cop – who just can't seem to sign the divorce papers. Between cleaning up after her boys and cleaning up the streets, she'd be the first to admit she has her "hot mess" moments in this hilariously authentic look at what it really means to be a "working mom" today. Somehow she makes it all work with the help of her sexy and understanding partner, and things get even more complicated when her husband ironically becomes her boss at the precinct. For Laura, every day is a high-wire balancing act.
From Executive Producer/Writer Jeff Rake ("Boston Legal," "The Practice"), Executive Producer Greg Berlanti ("Green Lantern," "Brothers & Sisters") and Executive Producer/Director McG ("Terminator Salvation," "Charlie's Angels") comes an action-packed, but lighthearted cop show with a twist, based on the popular Spanish series about one woman's quest to have it all.
TNT's Transporter The Series centers on Frank Martin (Chris Vance), a professional "transporter" paid to pick up and deliver people or cargo from anywhere in the world. Frank is the very best at what he does and handles only the most difficult dangerous and assignments. The drama features dry wit, exotic locations, heart-pounding action and nail-biting suspense. Coming Fall 2014.
From Emmy Award-winning writer and comedian John Mulaney ("Saturday Night Live") comes Fox's MULANEY, a multi-camera ensemble comedy series about a rising stand-up comic trying to take his career to the next level and the friends and mentors who lift him up, hold him back and push him around. JOHN MULANEY is a 29-year-old comedian working the stand-up circuit and looking for his big break. But life drastically changes when self-centered comedy legend and game show host LOU CANNON (Emmy Award winner Martin Short, "SCTV," "Saturday Night Live," "Father of the Bride," "Primetime Glick") hires Mulaney as a writer. Lou may be John's entrée into the world of big-money show business, but he's also a total nightmare. Still, the job represents everything Mulaney thinks he wants. But does he really? And, at what cost? And what does it say about him if he quits? And what does it say about him if he stays? And has Lou had work done? Mulaney's life becomes a tug-of-war between the stress of his new job and his guilt over not being there for his two best friends and roommates: JANE (Nasim Pedrad, "Saturday Night Live"), a tightly wound, yet directionless personal trainer; and MOTIF (Seaton Smith, "Totally Biased with W. Kamau Bell"), a powerhouse comic who shares nothing in common with Mulaney — except the world of stand-up. Rounding out this odd group of friends is ANDRE (Zack Pearlman, "The Inbetweeners"), a trust-fund baby who has a knack for showing up in Mulaney's life at the worst possible moments. If Mulaney has one refuge from the chaos that surrounds him, then it's his neighbor, OSCAR (Academy Award nominee Elliott Gould, "M*A*S*H," "The Long Goodbye," the "Oceans 11" franchise), a 71-year-old gay veteran of New York who has seen it all. Oscar is opinionated, refined, gentle, wise and sometimes extremely cantankerous, but most of all, he's an oracle of sound advice when Mulaney feels like life has gone off the rails. A unique mix of ensemble comedy, stand-up performances and an observational point-of-view, MULANEY is a show about the big questions in life: how hard they are to answer and how easy it is to maybe just ignore them and pray they go away. MULANEY is produced by Universal Television, Broadway Video and 3 Arts Entertainment. The series is created and written by John Mulaney. The series is executive-produced by Mulaney, Lorne Michaels ("Saturday Night Live," "30 Rock"), David Miner ("30 Rock"), Dave Becky ("Louie"), Jon Pollack ("30 Rock") and Andrew Singer ("Portlandia," "30 Rock"). Andy Ackerman ("Seinfeld") serves as both director and executive producer.
From the creator of BONES, Fox's comedic crime procedural BACKSTROM centers on an unhealthy, offensive, irascible — albeit brilliant — detective (Rainn Wilson) who is brought back from exile to run the Portland Police Bureau's Special Crimes Unit (S.C.U.).
From creator/executive producer Hart Hanson (BONES), BACKSTROM is a subversive and comic crime procedural about an unhealthy, offensive, irascible — albeit brilliant — detective who is brought back from exile to run the Portland Police Bureau's Special Crimes Unit (S.C.U.). Detective Lieutenant EVERETT BACKSTROM (Emmy Award nominee Rainn Wilson, "The Office") is a man with no filter. After a five-year banishment to the traffic division for offensive behavior, he has returned from disgrace to lead Portland's newly minted S.C.U. Tasked with navigating the city's most sensitive and serious cases, he must solve each crime as he tries, and fails, to change his own self-destructive behavior. To no one's surprise, Backstrom's return is far from well-received, especially by his commanding officer, Police Chief ANNA CERVANTES (guest star Inga Cadranel, "Orphan Black"). Backstrom's second-in-command and the person who actually supervises the day-to-day operations of the S.C.U. is Detective NICOLE GRAVELY (Genevieve Angelson, "House of Lies"). The ambitious and optimistic yin to Backstrom's yang, she extends herself to the limit to counterbalance his erratic and controversial behavior. By her side is Detective Sergeant JOHN ALMOND (Dennis Haysbert, "24," "The Unit"), a tested veteran of the Bureau who doesn't approve of Backstrom's xenophobic antics; although he tries to find the light in people, when it comes to Backstrom, he sees only darkness. The group's forensics liaison is Sergeant PETER NIEDERMAYER (Kristoffer Polaha, "Ringer," "Life Unexpected"), a handsome, free-spirited, philosophical man whose open approach to the universe pushes all of Backstrom's buttons. Managing the chain of evidence at S.C.U. headquarters is civilian support NADIA PAQUET (Beatrice Rosen, "The Dark Knight"), a beautiful French immigrant with a profound ability to navigate both cyberspace and legal bureaucracy. She also takes a liking to Backstrom and, at least technically, fills Backstrom's doctor's prescription to "make a friend." On the street, uniformed officer FRANK MOTO (Page Kennedy, "Blue Mountain State," "Weeds") proves his value by suppressing the perpetrators and swiftly maneuvering around hostile conditions. Meanwhile, GREGORY VALENTINE (Thomas Dekker, "Terminator: The Sarah Connor Chronicles"), who serves as Backstrom's tenant, decorator and underworld connection, has a genuine fondness for the abrasive cop. Using his dark instincts and peculiar abilities, Backstrom always manages to outsmart his foes, manipulate his peers and, with the help of his eccentric team, solve the case, even as he less ably adjusts to the progressive sensibilities of 21st century Portland. BACKSTROM is from Far Field Productions in association with 20th Century Fox Television. The series is created and written by Hart Hanson, and based on Swedish criminologist and novelist Leif G.W. Persson's hit series of books of the same name. The series is executive-produced by Hanson, Kevin Hooks ("Last Resort," "Detroit 1-8-7"), Persson, Niclas Salomonsson and Mark Mylod ("Shameless," "Once Upon a Time"), who directed the pilot.
Imagine the perfect American town... beautiful homes, manicured lawns, children playing safely in the streets. Now imagine never being able to leave. You have no communication with the outside world. You think you're going insane. You must be in Wayward Pines. Based on the best-selling novel "Pines" by Blake Crouch and brought to life by suspenseful storyteller M. Night Shyamalan ("The Sixth Sense," "Signs"), Fox's WAYWARD PINES is the intense new mind-bending 10-episode event thriller evocative of the classic hit "Twin Peaks." Secret Service Agent ETHAN BURKE (Academy Award nominee Matt Dillon, "Crash," "City of Ghosts") drives to the bucolic town of Wayward Pines, ID, searching for two missing federal agents. One of the best Secret Service agents in the Seattle office, he's the man who knew missing agent KATE HEWSON (Carla Gugino, "Watchmen," "Entourage") better than anyone. They were more than partners; their relationship nearly destroyed Ethan's marriage. Everything changes when a truck slams into his car...and he wakes up in the Wayward Pines Hospital, with the intense and unpredictable NURSE PAM (Academy Award and Emmy Award winner Melissa Leo, "The Fighter," "Treme") at his bedside. It soon appears that Pam is more interested in harming than healing. She and Ethan grow into deadly rivals, and her role in the town proves much deeper than anyone realizes. As the mysteries within the town pile up, Ethan starts to question his own sanity. He is confronted by the mysterious and charismatic DR. JENKINS (Emmy Award nominee Toby Jones, "The Girl," the "Harry Potter" franchise), the psychiatrist who treats him at Wayward Pines Hospital. As he begins to meet some of the local residents, including toymaker HAROLD BALLINGER (Reed Diamond, "24," "Much Ado About Nothing"), Ethan forms a bond with BEVERLY (Academy Award and Emmy Award nominee Juliette Lewis, "Hysterical Blindness," "Cape Fear"), a bartender who is as wary of Wayward Pines as he is. Back home in Seattle, Ethan's wife, THERESA BURKE (Shannyn Sossamon, "40 Days and 40 Nights," "How to Make It in America"), a former Secret Service Agent trainee, is informed by Ethan's boss, ADAM HASSLER (Tim Griffin, "Prime Suspect"), that early testing shows Ethan was never in the car which was recovered on the side of the road outside of Wayward Pines. They're still investigating. But this isn't enough for Theresa. So she sets out on her own search for her husband, along with their teenage son, BEN (Charlie Tahan, "The Harvest," "Charlie St. Cloud"). Meanwhile, Ethan is challenged at every turn by the town's die-hard residents, especially SHERIFF ARNOLD POPE (Academy Award nominee Terrence Howard, "Crash," "Hustle & Flow"), who takes offense at a Secret Service agent showing up on his turf. Ethan's continuing investigation only turns up more and more questions, and each one leads him to the most important question of all: What's wrong with Wayward Pines? WAYWARD PINES is a production of FX Productions. The series was developed for television by Chad Hodge ("The Playboy Club," "Runaway") and executive-produced by M. Night Shyamalan, Donald De Line ("Green Lantern," "The Italian Job"), Hodge and Ashwin Rajan ("After Earth," "Devil"). Hodge wrote and Shyamalan directed the premiere episode.
TNT's The Librarians returns to the world of its hit movie franchise The Librarian with a brand new series from Electric Entertainment and executive producers Dean Devlin, John Rogers and Marc Roskin. Starring Rebecca Romijn, the series focuses on an ancient organization hidden beneath the Metropolitan Public Library that solves impossible mysteries, fights supernatural threats and recovers powerful artifacts from around the world. Noah Wyle will also executive-produce and play a recurring role in the series, reprising his role as Flynn Carsen from the movie trilogy.
Welcome to Fox's EMPIRE, a sexy and powerful new drama about the head of a music empire (Terrence Howard) whose three sons and ex-wife all battle for his throne. Set to an original soundtrack written and produced by hip-hop hitmaker Timbaland.
From Academy Award nominee Lee Daniels ("Lee Daniels' The Butler," "Precious") and Emmy Award winner Danny Strong ("Lee Daniels' The Butler," "Game Change"), comes EMPIRE, a sexy and powerful new drama about the head of a music empire whose three sons and ex-wife all battle for his throne. LUCIOUS LYON (Academy Award nominee Terrence Howard, "Crash," "Hustle & Flow") is the king of hip-hop. An immensely talented artist, the CEO of Empire Entertainment and a former street thug, his reign has been unchallenged for years. But all that changes, when he learns he has a disease that is going to render him crippled and incapacitated in a matter of three years. The clock is ticking, and he must groom one of his three sons to take over his crowning achievement, without destroying his already fractured family. Lucious' favorite is his youngest son, HAKEEM (newcomer Bryshere Gray), a gifted musician and a spoiled playboy who values fame over hard work. The middle son, JAMAL (Jussie Smollett, "North," "The Mighty Ducks"), is a sensitive soul and a musical prodigy who, unlike Hakeem, shies away from the spotlight. Jamal also happens to be gay, which infuriates and embarrasses his father. ANDRE (Trai Byers, "90210"), the eldest son, is CFO of Empire Entertainment. Wharton-educated with a brilliant business mind, Andre lacks the charisma that Lucious believes is crucial to running the company. But in his quest for power, Andre is assisted by his manipulative and like-minded wife, RHONDA (Kaitlin Doubleday, "Hung," "Catch Me If You Can"). As Lucious prompts his sons to vie for the empire, his plans are thrown into chaos when his ex-wife, COOKIE (Academy Award and Emmy Award nominee Taraji P. Henson, "The Curious Case of Benjamin Button"), mysteriously emerges seven years early from prison, where she's been for almost two decades. Brash and fearless, she sees herself as the sacrificial lamb who built this empire with Lucious and then took the fall for running the drugs that financed Lucious' early career. For now, Lucious remains firmly in control of Empire Entertainment. He is attended to by his hard-working assistant, BECKY (guest star and Academy Award nominee Gabourey Sidibe, "American Horror Story," "Precious"), and relies on longtime friend and Chairman of the Board VERNON TURNER (Malik Yoba, "Revolution," "Girlfriends") for advice and support. He relies on a whole lot more from ANIKA GIBBONS (newcomer Grace Gealey), the head of A&R for Empire, and his current girlfriend. As the Lyons slug it out, an emotional chess game begins that will either cause the family's destruction or redemption. Lives and loves will be lost as the complicated family will come together and fall apart over the elusive throne, all set to an original soundtrack written and produced by legendary hip-hop hitmaker Timbaland. Will the family unite and learn to love each other before it's too late? Love, war, family, sacrifice, money and music: this is the story of the Lyons' EMPIRE. EMPIRE is from Imagine Television in association with 20th Century Fox Television. The series is created by Lee Daniels and Danny Strong. The pilot is written by Daniels and Strong. The series is executive-produced by Daniels, Strong, Brian Grazer ("24," "Friday Night Lights," "Parenthood") and Francie Calfo ("Those Who Kill," GANG RELATED). Daniels directed the pilot.
Works hard. Puts family first. Drinks your last beer. Watch a clip of Cristela, coming soon to ABC. Cristela's pursuit of success is more ambitious than her traditional Mexican-American family thinks is appropriate. Get a first look at the series' pilot episode!
Get to know ABC's new funny family — The Johnsons — from the upcoming show, Blackish. Andre Johnson has a great job, a beautiful wife, Rainbow, four kids, and a colonial home in the 'burbs. But has success brought too much assimilation for this black family? With a little help from his dad, Dre sets out to establish a sense of cultural identity for his family that honors their past while embracing the future. Coming Wednesdays at 9:30|8:30c this Fall on ABC!
Can a marketing genius re-brand a self-absorbed social media diva? Selfie is coming soon to ABC!
"Instafamous" Eliza Dooley has 263,000 followers who hang on to her every post, tweet and selfie. But one lonely day she has a revelation: being friended is not the same as having actual friends. She asks marketing guru Henry to 'rebrand' her self-obsessed reputation and teach her how to connect with people in the real world. Loosely based on "My Fair Lady", "Selfie" explores the modern struggles of Eliza and Henry, as he tries to teach her how to live life offline—whether she 'likes' it or not. Coming to Tuesdays at 8|7c this Fall on ABC!
Doctor Henry Morgan knows more about death than any man should. Watch a clip from Forever, coming soon to ABC.
Doctor Henry Morgan (Ioan Gruffudd), New York City's star medical examiner, has a secret. He doesn't just study the dead to solve criminal cases, he does it to solve the mystery that has eluded him for 200 years—the answer to his own inexplicable immortality. This long life has given Henry remarkable observation skills which impresses his new partner Detective Jo Martinez (Alana De La Garza). Each week, a new case and their budding friendship will reveal layers of Henry's long and colorful past. Only his best friend and confidant, Abe (Judd Hirsch) knows Henry's secret.
Forever stars Ioan Gruffudd as Henry, Alana De La Garza as Det. Jo Martinez, Barbara Eve Harris as Lt. Marcia Roark, Donnie Keshawarz as Detective Hanson, Joel David Moore as Lucas, and Judd Hirsch as Abe.
Forever was written and executive-produced by Matt Miller (Chuck, Las Vegas). Dan Lin (Sherlock Holmes, Gangster Squad) and Jennifer Gwartz (Veronica Mars, Cupid, Party Down) are executive producers. Forever was directed by Brad Anderson and is produced by Warner Bros. Television.
From the creator of Scandal and Grey's Anatomy comes How To Get Away With Murder starring Viola Davis, coming soon to ABC!
The brilliant, charismatic and seductive Professor Annalise Keating (Viola Davis) gets entangled with four law students from her class "How to Get Away with Murder." Little do they know that they will have to apply what they learned to real life, in this masterful, sexy, suspense-driven legal thriller from Shonda Rhimes and Betsy Beers, executive producers of "Grey's Anatomy" and "Scandal."
Have you ever wondered what your date was thinking? Get a first look at Manhattan Love Story, coming soon to ABC!
Have you ever wondered what your date was thinking? This romantic comedy exposes the differences between men and women through the unfiltered thoughts, and often contradictory actions, of a new couple who have just begun dating.
TBS has given the greenlight to the character-driven police comedy Angie Tribeca (working title), the brainchild of Steve and Nancy Carell. Rashida Jones (The Office, Parks and Recreation) stars in the satirical look at police procedurals, along with Jere Burns (Justified, Dear John), Deon Cole (CONAN, Funny Business) and Andree Vermeulen (Laid Off, NTSF:SD:SUV). Angie Tribeca is being executive-produced by Steve and Nancy Carell through their Carousel Television, along with Campbell Smith (The Daily Show with Jon Stewart) and Thom Hinkle (I Bet You). Steve and Nancy Carell also wrote the pilot, which was directed by Steve Carell.
TBS has ordered 10 episodes of Angie Tribeca, which is slated to premiere in 2015. The single-camera comedy focuses on an eccentric but brilliant group of LAPD detectives who investigate crime, reveal way too much personal information and refuse to rest until justice has been served...sort of. Jones plays Angie Tribeca, a lone wolf who's capable, committed, strong and not thrilled when her boss (Burns) tells her she has to work with a partner (Macarthur).
TNT's Proof centers on a skeptical, hard-science, female surgeon, Katherine (Jennifer Beals), who has been struggling with family issues, including a tragic death. She is persuaded to investigate cases of reincarnation, out-of-body experiences, hauntings – all of it looking for verifiable proof to answer one of life's greatest questions: Is death truly the end, or is there something else beyond? Coming in 2015
TBS has greenlit the workplace comedy Buzzy's, the latest series from David Kohan and Max Mutchnick, the Emmy®-winning creators of Will & Grace. Ashley Tisdale (High School Musical), Mike Castle (Family Trap), Lauren Lapkus (Orange Is the New Black), Ryan Pinkston (Tower Prep), Matt Cook (True Blood) and six-time Emmy® nominee George Wendt (Cheers) star in the ensemble comedy, which comes to TBS from KoMut Entertainment in association with Warner Horizon Television. Kohan and Mutchnick serve as executive producers on the series and penned the pilot, which was directed by James Widdoes (Two and a Half Men).
TBS has ordered 10 episodes of Buzzy's, with plans to launch the show in 2015. Set in Charlestown, Mass., the multi-camera comedy centers on a group of coworkers who all went to high school together but ran in very different crowds. Now they find themselves working together at Buzzy's, a barbershop that was recently bought by one-time loser Ben (Pinkston). Since taking over the establishment, Ben has become the boss to many of his old classmates, and he's not afraid to flaunt his more powerful position.
Ben's staff at Buzzy's includes Mo (Cook), his best friend and total opposite. Mo sees the best in people, which explains why he's been able to put up with Ben since childhood. Also working at Buzzy's are A.J. Salerno (Castle), the popular kid who was once a great baseball player until a shoulder injury pulled him out of the game and into the barber shop; Danni (Tisdale), who could be doing bigger things with her life if she weren't too busy trying to figure out if a fling with A.J. on prom night means they're more than just friends; and Joy (Lapkus), the eternally optimistic receptionist and the object of Mo's affections...even though she's already taken. The pilot episode also features guest star Diona Reasonover (Shane Dawson TV).
In addition to his regular staff, Ben has arranged for the barbershop's former owner, Buzzy (Wendt), to stay on board. Through his many decades as behind the barber's chair, Buzzy has become as much an institution as the place that bears his name.
"With its unique setting, terrific cast and sharp writing, Buzzy's puts a fresh spin on the workplace comedy," said Michael Wright, president, head of programming for TNT, TBS and Turner Classic Movies (TCM). "We're especially excited to be marking our first venture with executive producers Max Mutchnick and David Kohan, whose Will & Grace stands as one of the funniest sitcoms ever made."
TBS has given the greenlight to Your Family or Mine, a new domestic comedy with a twist starring Kyle Howard (Royal Pains, My Boys), Kat Foster ('Til Death, Royal Pains), Richard Dreyfuss (The Goodbye Girl, The American President) and JoBeth Williams (Poltergeist, Dexter). Based on an enormously popular Israeli comedy from Keshet International, the series is being executive produced by Greg Malins (Friends, How I Met Your Mother, Will & Grace); Jamie Tarses (Happy Endings, Franklin & Bash); Keshet's Rubi Duanias, Yaniv Polishuk, Avi Nir and Ran Telem; and Teddy Productions' Tamira Yardeni. Your Family or Mine is produced by Sony Pictures Television, Jamie Tarses' Fanfare Productions, Keshet International and Teddy Productions.
TBS has ordered 10 episodes of Your Family or Mine, which is slated to premiere in 2015. Originally created by Rubi Duanias and Yaniv Polishuk, the comedy centers on Oliver (Howard) and Kelli (Foster), a young couple with two daughters. Oliver and Kelli are living proof of the adage, "When you marry someone, you don't just marry them, you marry their whole family." Putting a unique spin on domestic comedies, each episode of Your Family or Mine will focus on a different side of the family, one week with Kelli's family, the next with Oliver's.
Oliver's parents, Louis (Dreyfuss) and Ricky (Williams) Mansfield, never make visits comfortable for Kelli, who grudgingly endures inappropriate remarks from gruff retiree Louis and thinly veiled insults from Ricky. Time spent at the Mansfield household also includes frequent encounters with Oliver's brothers, the cocky Jason (Danny Comden — Dirt, I'm With Her) and the dreamy Blake (Andrew Lees — Dance Academy, Home and Away).
"Your Family or Mine breathes new life into the domestic family comedy format with its innovative 'one week with her family, the next with his' format," said Michael Wright, president, head of programming for TNT, TBS and Turner Classic Movies (TCM). "This series brings together an ideal ensemble of young talents and award-winning veterans, along with a remarkable production team led by hit-maker Greg Malins, our frequent collaborator Jamie Tarses and our new friends at Keshet International."