'Calvary' Trailer: "It Takes A Lot Of Nerve To Burn Down A Church"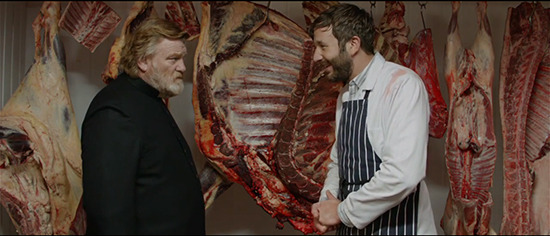 Writer/director John Michael McDonagh follows up The Guard with a new film called Calvalry, once again starring Brendan Gleeson. Here, Gleeson gets to play a different type of character, but still one who has to deal with deep, real darkness. He's a priest, and a pretty good one. But during one confession session, an unidentified man says he plans to kill Gleeson. He's got one week to get his things in order, and what follows seems like a bizarre mystery. The cast also features Chris O'Dowd, Aidan Gillan, Dylan Moran and Kelly Reilly, and there's some fun to be had watching Littlefinger glower about, perhaps plotting some violence against Gleeson. Check out a great Calvary trailer below.
Calvalry opens on August 1. Trailer via FirstShowing.
Calvary's Father James (Brendan Gleeson) is a good priest who is faced with sinister and troubling circumstances brought about by a mysterious member of his parish. Although he continues to comfort his own fragile daughter (Kely Reilly) and reach out to help members of his church with their various scurrilous moral—and often comic—problems, he feels sinister forces closing in, and begins to wonder if he will have the courage to face his own personal Calvary.