Full 'The Simpsons' Lego Episode Now Online; Plus First Look At 'Family Guy' Crossover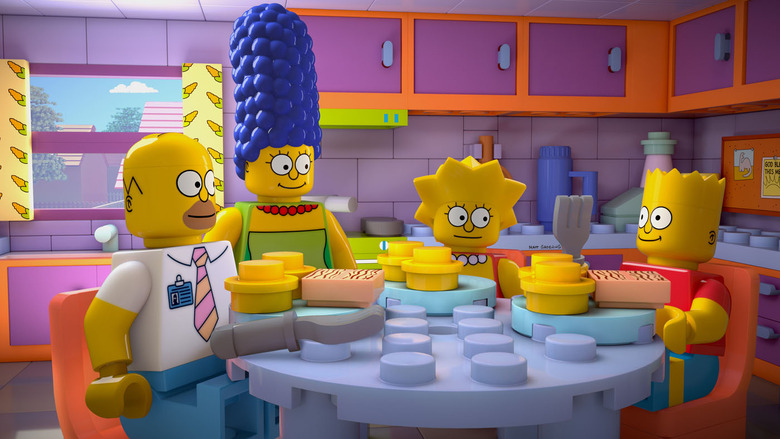 In case you didn't notice, we're going through something of a mini-renaissance for the Simpsons in pop culture. The show is about to get new life on demand thanks to FX, the Lego toys are super popular, its theme park presence is getting expanded, some people spend way too much time with their mobile game Tapped Out, and things just keep on rolling.
Building off that Lego popularity, last week's episode was almost fully animated in the world of Lego and, next season, the premiere episode will be the long awaited crossover with Fox's other popular animated comedy, Family Guy.
Below, you can watch the full Simpsons Lego episode and see the first images from the Simpsons Family Guy crossover.
First up, here's the Simpsons Lego episode via Hulu. (Viewers outside the US may be blocked, for which we apologize.)
Simpsons Lego Episode "Brick Like Me"
You can read a bunch more about that episode at this link, where the producers talk a bit about the inspirations and more.
Next up, at the Fox upfront earlier this week, it was revealed the 26th season of The Simpsons would kick off with a long rumored crossover with once-rival show, Seth MacFarlane's Family Guy. Here are the first two images.
Simpsons Family Guy Crossover
And here's the official description. The Simpsons Family Guy crossover airs around September.
Peter (Seth MacFarlane) and the Griffins get out of dodge and end up in Springfield, where they are greeted by a friendly stranger named Homer Simpson (guest voice Dan Castellaneta), who welcomes his new "albino" friends with open arms. The families get along famously: Stewie (MacFarlane) becomes obsessed with Bart (guest voice Nancy Cartwright) and his old-fashioned pranks; Lisa (guest voice Yeardley Smith) takes Meg (Mila Kunis) under her wing and is determined to find something – anything – at which she excels; Marge (guest voice Julie Kavner) and Lois (Alex Borstein) ditch housework for a little bonding; and Peter and Homer fight over the best beer in town – Pawtucket vs Duff.