'The Hundred-Foot Journey' Trailer: Helen Mirren Cooks Up A Crowd-Pleaser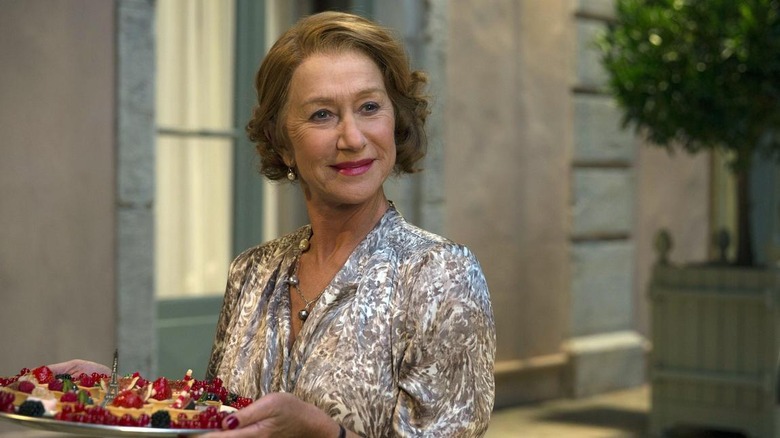 Seven years after Ratatouille declared that "anyone can cook," French chefs in the movies are still being awfully snobby about who gets control of the kitchen. The new The Hundred-Foot Journey trailer shows Helen Mirren as Madame Mallory, a Michelin-starred chef in the south of France who faces an unexpected challenge when an Indian family opens their own eatery right across the street from hers.
Initially, the two competitors seem ready to go to war with each other, Neighbors-style. But Mallory is eventually won over by talented young Hassan (Manish Dayal), and takes him under her wing. Watch the trailer after the jump.
The Hundred-Foot Journey is all about high-end cuisine, and there's plenty of mouth-watering food porn on display in the trailer. But the trailer is the equivalent of home-cooked comfort food. It might not blow your mind or expand your horizons, but sometimes you just want to treat your family to something warm and familiar. The Hundred-Foot Journey opens August 8. Om Puri co-stars as Hassan's dad, and Charlotte Le Bon as Mallory's sous chef.
In "The Hundred-Foot Journey," Hassan Kadam (Manish Dayal) is a culinary ingénue with the gastronomic equivalent of perfect pitch. Displaced from their native India, the Kadam family, led by Papa (Om Puri), settles in the quaint village of Saint-Antonin-Noble-Val in the south of France. Filled with charm, it is both picturesque and elegant – the ideal place to settle down and open an Indian restaurant, the Maison Mumbai. That is, until the chilly chef proprietress of Le Saule Pleureur, a Michelin starred, classical French restaurant run by Madame Mallory (Academy Award®-winner Helen Mirren), gets wind of it. Her icy protests against the new Indian restaurant a hundred feet from her own, escalate to all out war between the two establishments – until Hassan's passion for French haute cuisine and for Mme. Mallory's enchanting sous chef, Marguerite (Charlotte Le Bon), combine with his mysteriously delicious talent to weave magic between their two cultures and imbue Saint-Antonin with the flavors of life that even Mme. Mallory cannot ignore. At first Mme. Mallory's culinary rival, she eventually recognizes Hassan's gift as a chef and takes him under her wing.
"The Hundred-Foot Journey" abounds with flavors that burst across the tongue. A stimulating triumph over exile, blossoming with passion and heart, with marjoram and madras, it is a portrayal of two worlds colliding and one boy's drive to find the comfort of home, in every pot, wherever he may be.