Zack Snyder's 'Batman V Superman' Batmobile Fully Revealed In Official Photo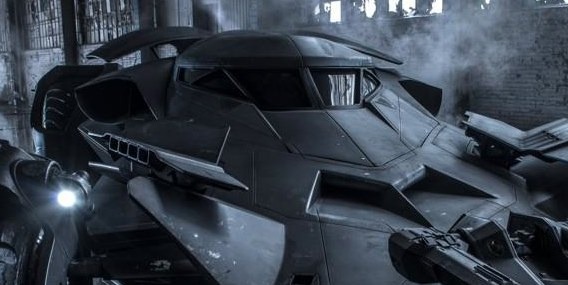 Zack Snyder has revealed the first official uncovered fully revealed photo of the Batman v Superman: Dawn of Justice batmobile. Hit the jump to see the new Batman vs. Superman batmobile professionally photographed and ready to go.
Here is the new photo from Zack Snyder: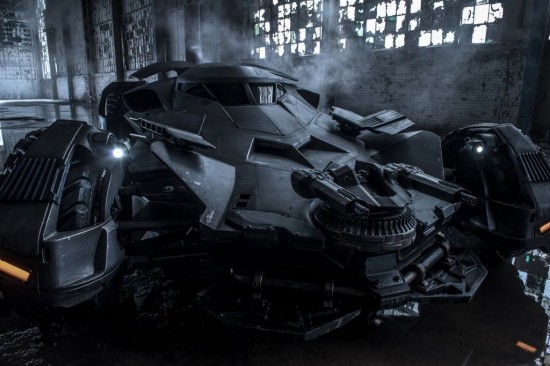 Snyder's tweet reads "Here's a real picture of the #Batmobile." while his official photographer Clay Enos tweeted out the following technical info about the photo:
iPhone photography is great but some things deserve more. #batmobile (Nikon D800 ISO 500 24mm f/11 1/25th sec)
The official photo comes just hours after unofficial fan set photos revealed the Batman v Superman: Dawn of Justice batmobile. The official image looks a bit nicer than those iphone photos from the set, but I'm not really digging the new look — and this is coming from someone who was never in love with Christopher Nolan's The Tumbler.
The original post from May 12th 2014 by Russ Fischer follows:
Over the past couple months, Zack Snyder has talked more than once about the fact that he has his office decorated with images from Batman vs. Superman — the costumes, the storyboards, the designs for things like the Batmobile. But the film's strict marketing timeline means he won't just dump all that stuff online, even if he wanted to. But the time approaches for something new, and Snyder has just posted an image of the new Batman vs. Superman Batmobile. Only part of the vehicle can be seen in the shot — well, very little of it, in fact. But there's a fins, or a spoiler, or... something.
Here's the photo from Snyder's tweet:
Here's a larger shot.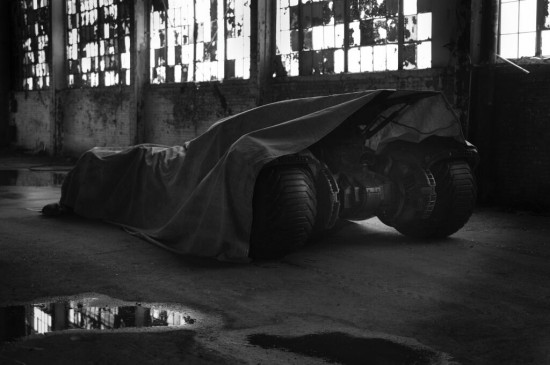 That looks more like a "classic" Batmobile than the Tumbler of the Christopher Nolan films. People are already talking about the vague resemblance to the Batman Forever car, but it's tough to say, based on this minor reveal. This seems like a less overtly militaristic design.
Presumably this tweet means we'll see the whole car tomorrow, and that leads to the suspicion that costume reveals can't be far behind.  Given that the film starts shooting for real soon, those costumes are going to be everywhere via paparazzi shots at some point, and Warner Bros. will want to be out in front of that wave of images.
Batman v Superman: Dawn of Justice will be released on March 25th, 2016.