See Official 'Agent Carter' Teaser Image And Info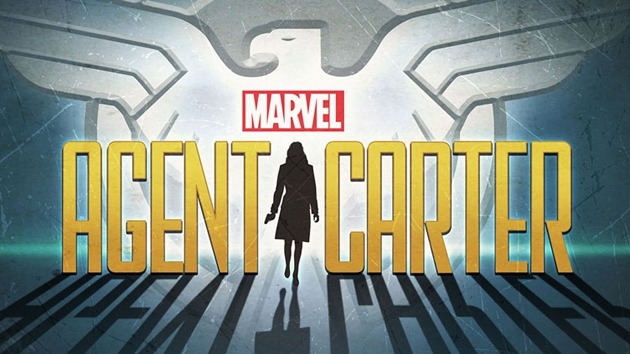 Last week ABC gave the green light to the Captain America spin-off series Agent Carter, starring Hayley Atwell. The series will effectively jump off from the Agent Carter One-Shot short film included on the Iron Man 3 blu-ray, using that short as a pilot to launch the series. ABC also renewed Agents of SHIELD, and given the events of Captain America: The Winter Soldier, we figured the two series would be related. Now, with the release of some official art (above) and info, we know they will be tightly woven together.
THR reported after the pickup that Agent Carter "will be a short-order series," which will likely air during the mid-season break of Agents of SHIELD. Ultimately both series will tie together.
And as we wondered if Howard Stark would make many appearances on the show, this new synopsis released by Marvel suggests that he definitely will. That is, Stark, played on film by Dominic Cooper, will have a big presence in the show, but Marvel could always pull a Charlie's Angels, and avoid paying for Cooper by having Peggy Carter stay in touch with Stark via phone, or something similar.
"Marvel's Agent Carter," starring Captain America's Hayley Atwell follows the story of Peggy Carter. It's 1946, and peace has dealt Peggy Carter a serious blow as she finds herself marginalized when the men return home from fighting abroad. Working for the covert SSR (Strategic Scientific Reserve), Peggy must balance doing administrative work and going on secret missions for Howard Stark all while trying to navigate life as a single woman in America, in the wake of losing the love of her life–Steve Rogers. Inspired by the feature films "Captain America: The First Avenger" and "Captain America: The Winter Soldier," along with the short "Marvel One-Shot: Agent Carter."
Starring Hayley Atwell as Agent Peggy Carter, "Marvel's Agent Carter" is executive produced by Christopher Markus, Steve McFeely, Tara Butters, Michele Fazekas, Kevin Feige, Louis D'Esposito, Jeph Loeb.