'Kickboxer' Remake To Star WWE's Dave Bautista And UFC's Georges St. Pierre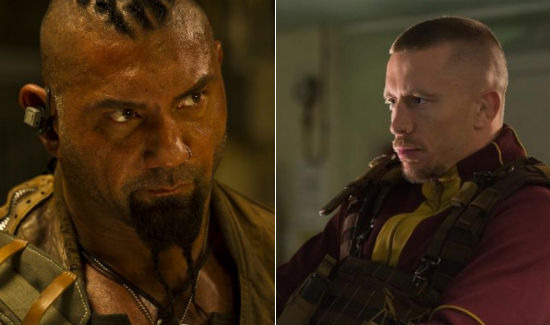 Two professional fighters turned Marvel characters are set to remake a Jean Claude Van-Damme classic.
Dave Bautista, the WWE wrestler who stars as Drax in Guardians of the Galaxy, and Georges St. Pierre, the former UFC champion who played Batroc in Captain America 2, have just signed to co-star in a new version of Kickboxer. Stephen Fung will direct and rising martial arts star Alain Moussi will play the lead.  Read more about the Kickboxer remake below.The Hollywood Reporter first wrote about the Kickboxer remake news, which broke out of Cannes. There the film is currently looking for financing.
"We have a visionary director, a strong Hollywood producer, great cast and an action-packed script based on a well-known property," producer Brian O'Shea told THR. "What more can you ask for?"
Fung directed Tai Chai Zero (2012) and Tai Chi Hero (2012) while Moussi is a stuntman in X-Men: Days of Future Past, Pacific Rim, White House Down and Immortals among others. He'll be playing the Van Damme role, which would likely set Bautista and St. Pierre in smaller, but important, adversarial roles.
Like the original film, the Kickboxer remake will follow a martial artist who travels to Thailand looking for his brother. When he realizes his brother has been killed, he'll kick ass to get revenge.
Bautista has been a very popular WWE wrestler for the better part of a decade, before turning his attention to Hollywood to try and mimic the success of fellow wrestler turned actor, The Rock. He's so far played supporting roles in a few movies but this summer's Guardians of the Galaxy should be his coming out party. It's a bona fide franchise.
As for St. Pierre, he was long considered one of the best fighters in the entire world. He held multiple UFC championships before transitioning out of the sport. Most recently, he was seen in Captain America: The Winter Soldier in a role that could continue into the upcoming sequels.
What do you think about this Kickboxer remake? Are Bautista and St. Pierre worthy adversaries for Moussi?