'Gotham' Cast Image Puts The Show's Stars All Together

A few days ago we saw the first regular trailer for Fox's Batman prequel show Gotham, and also an extended version of the same. So between those two versions of the trailer, and the many cast photos that have been released, we have a pretty good idea of what the show looks like. But how about one more for good measure? Today Ben McKenzie, who plays a young James Gordon in the show, tweeted out the first Gotham cast image. See it below.
First official image of #gotham ... pic.twitter.com/zyt2NVMc8y

— Ben McKenzie (@ben_mckenzie) May 9, 2014
Here's a bigger version: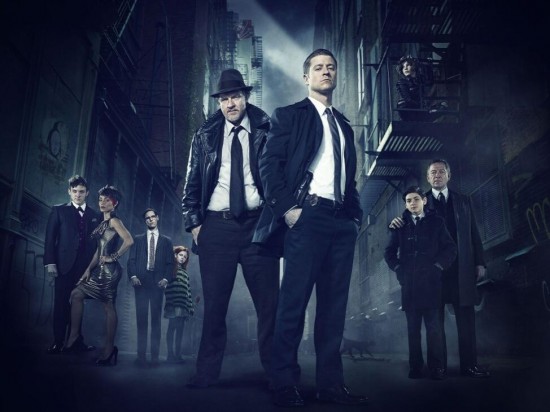 We don't have a premiere date for Gotham yet, but it will be part of the 2014-2015 schedule on Fox. The cast also features Donal Logue as Harvey Bullock; Jada Pinkett Smith as the new character Fish Mooney; David Mazouz as young Bruce Wayne; Robin Lord Taylor as Oswald "the Penguin" Cobblepot; Camren Bicondova as Selina "Catwoman" Kyle;Erin Richards as Barbara Kean; Sean Pertwee as Alfred Pennyworth; and Zabryna Guevara as Captain Essen.
Gotham is an origin story of the great DC Comics super villains and vigilantes, revealing an entirely new chapter that has never been told. From executive producer/writer Bruno Heller ("The Mentalist," "Rome"), "Gotham" follows one cop's rise through a dangerously corrupt city teetering on the edge of evil and chronicles the birth of one of the most popular super heroes of our time.
Growing up in Gotham City's surrounding suburbs, James Gordon (Ben McKenzie, "Southland," "The O.C.") romanticized the city as a glamorous and exciting metropolis where his late father once served as a successful district attorney. Now, two weeks into his new job as a Gotham City detective and engaged to his beloved fiancée, Barbara Kean (Erin Richards, Open Grave, "Breaking In"), Gordon is living his dream – even as he hopes to restore the city back to the pure version he remembers it was as a kid.