Triumph The Insult Comic Dog Getting Own TV Series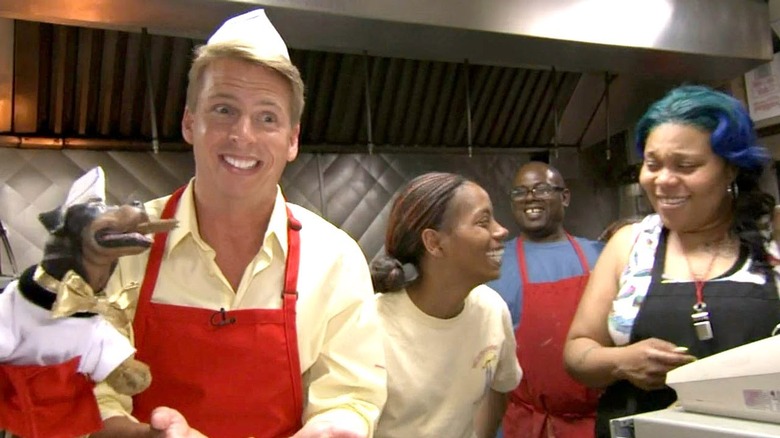 Someone is getting a new TV series....FOR ME TO POOP ON. Yes, it's true, Robert Smigel's cult comedy puppet, Triumph the Insult Comic Dog, is getting his own TV show. It'll be part of the Cartoon Network's Adult Swim programming block, which will soon run from 8 p.m. to 6 a.m. nightly.
Triumph's show is currently untitled but will co-star 30 Rock's Jack McBrayer. Read about the plot of the Triumph TV show below.
The news of the Triumph TV show came as Adult Swim announced their 2014-2015 line up. There's no set date on when the show would premiere but you'd have to imagine sometime by the end of this year. It was co-created by Triumph's driving force, Robert Smigel along with Michael Koman and David Feldman.
According to the LA Times, it's about "the washed-up and debauched former star of a wholesome 'Lassie'-style series from the 1980s. In modern day, Triumph seeks out his former boy costar." So basically, Triumph and McBrayer's character were on a TV show together and decades later, with the boy grown up and living on his own, he has to deal with Triumph again.
The show is going to be a half hour sitcom and narratively driven, which is different from how we're used to see Triumph. Smigel debuted the puppet on Late Night With Conan O'Brien back in 1997 and has since made regular appearances on the show. He's also done multiple different spin offs, interviews, one offs, but nothing to this extent.
Fans of Triumph know this isn't the first time the puppet and McBrayer have teamed up either. They did the below skit back in 2012.
Does it seem like a show featuring Triumph and McBrayer could work? Yes. Could it work as a 30 minute sitcom? That feels a little less certain. Then, how long can that conceit actually go? Multiple seasons? I guess we'll see in the coming months. I always felt that great thing about Triumph was you only got him in small doses which made them much more special.
Still, this show definitely has my interest. What about you?