Jon Favreau's 'Chef' Clip Takes Aim On Twitter And Critics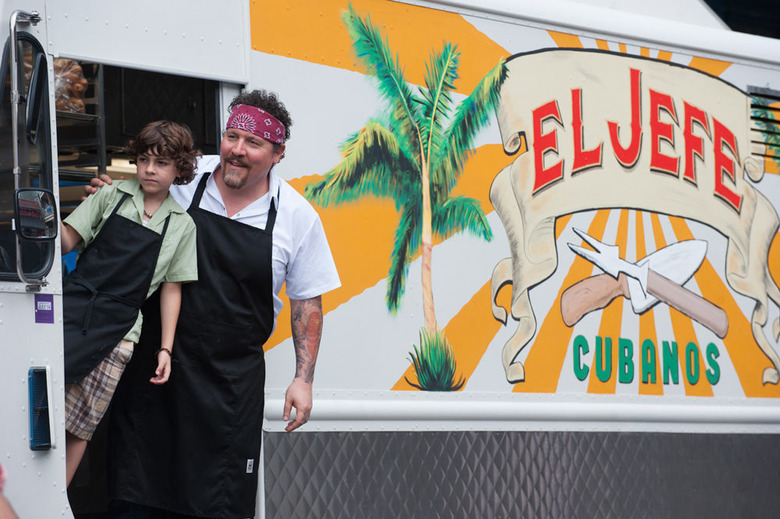 Jon Favreau's small, personal film Chef opens in New York and Los Angeles this weekend. It's really good but not for the reasons you'd think. Yes, there is a lot of cooking and delicious-looking food, which is always fun to watch. However, what makes Favreau's film really tasty is that it's more about a father's relationship with his son, the way social media has changed our lives and the complicated relationship between critics and their subjects.
It also happens to co-star Robert Downey, Jr., Sofia Vergara, John Leguizamo, Bobby Cannavale, Dustin Hoffman, Oliver Platt and Scarlett Johansson. Which is never bad.
A clip from the film has now come online and, in 90 seconds, perfectly encompasses everything that makes the film so good. Watch the new Chef movie clip below.
Thanks to Yahoo for this great Chef movie clip.
That humor derived from the generation gap only gets expanded in the film, and it's really rewarding and sweet.
Chef is playing in NY and LA today, expands next week and then continues after that. You can see a full list of theaters at the official site.
I'd definitely recommend the film as it feels like Favreau is getting back to the simple, character driven stories that made him a star. Swingers, Made, etc. The one reservation I have with Chef is its structure. Favreau's script takes so much time to get to the main section of the film, his chef character falling back in love with cooking on a food truck, that it feels rushed once we finally get to that. The best part of the movie is not the longest part of the movie. Everything in the movie is necessary and works but, I found myself so much more enamored with the second act of the film, I wished it was longer.
Chef, written/directed and starring Jon Favreau is now open. It co-stars Robert Downey, Jr., Sofia Vergara, John Leguizamo, Bobby Cannavale, Dustin Hoffman, Oliver Platt and Scarlett Johansson. Here's the official description:
When Chef Carl Casper (Jon Favreau) suddenly quits his job at a prominent Los Angeles restaurant after refusing to compromise his creative integrity for its controlling owner (Dustin Hoffman), he is left to figure out what's next. Finding himself in Miami, he teams up with his ex-wife (Sofia Vergara), his friend (John Leguizamo) and his son to launch a food truck. Taking to the road, Chef Carl goes back to his roots to reignite his passion for the kitchen — and zest for life and love.