It's The Darkest Timeline: 'Community' Canceled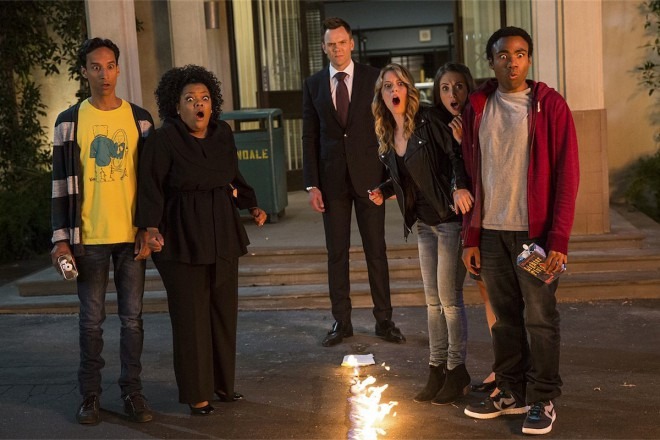 "Six seasons and a movie" was originally a joke within the world of Dan Harmon's Community. It then became a catchphrase and rallying cry as the show struggled from season three to four, and then onward. One way or the other, it seemed like Harmon's beleaguered show would make it to the finish line. But the biggest possible roadblock to that sixth season has just been thrown up, as NBC has canceled Community following the show's fifth season. 
THR reports that despite optimistic talk during PaleyFest, Community's numbers weren't good enough for NBC to continue to commit to the show.
The question now will be whether or not production company Sony Television tries to take the show somewhere else, either to Hulu or Netflix, or another broadcast channel. Harmon indicated just weeks ago that other options would be explored if NBC didn't want to pony up for a sixth season, so expect to hear more about that in the coming weeks. (EW reports that Sony is definitely going to explore new options.)
Dan Harmon told HitFix about his general determination to continue the show and reach the rally goal set out years ago:
If the movie has to be made out of clay and duct tape in my basement, then that's how the movie will be made, because there has to be closure. The title of the book about the show is not Community, An Interesting Journey into a Show No One Ever Watched. The title of the book is obviously going to be, Six Seasons and a Movie.