'Agents Of S.H.I.E.L.D.' Renewed; ABC Orders 'Agent Carter' To Series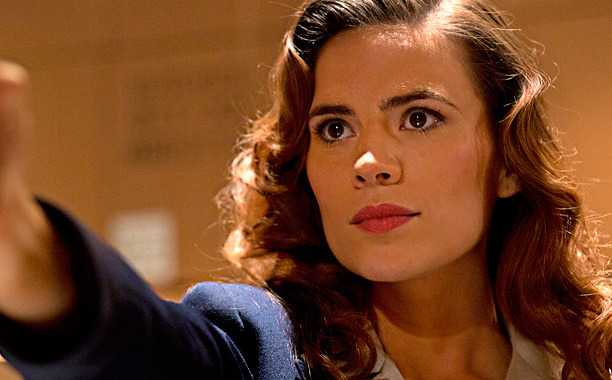 Among the many shows renewed and/or ordered to season by ABC this week, two stand out. Marvel's Agent Carter, the series starring Hayley Atwell that jumps off from Captain America: The First Avenger, has been ordered to series. That means that Atwell will be Marvel's first solo lead female character, which is great. Meanwhile, Agents of SHIELD has been renewed for a second season.
Agent Carter sounds pretty great, and not only because it gives Atwell a lot more time to play as Peggy Carter. The basics of the series, which jumps off from the Agent Carter one-shot short, pin it as an exploration of life as a single career woman in the '40s. (It takes place a year after the events of Captain America: The First Avenger.) That sounds like Marvel is going all in with its first effort oriented entirely around a female character. Bravo, Marvel and ABC!
As Carter fights for her rights in the 1940s she'll also be working as a special agent, and eventually founding SHIELD. Tara Butters and Michele Fazekas (Resurrection) are the key creatives.We know that Carter gets married eventually, but given the description of the show, we might not meet her beau straight off. Will we see Dominic Cooper show up as Howard Stark, and will any of the other supporting characters from the first Cap film make an appearance? Right now we don't know, but it seems safe to assume the answer is "yes."
After the events of Captain America: The Winter Solider, there was reason to wonder if Agents of SHIELD would be finished along with SHIELD. That clearly isn't the case, and there will clearly be many Hydra forces to ferret out and fight. This will give Marvel an interesting opportunity to tell the beginning of the SHIELD story in Agent Carter, and the second phase of the story, as it were, in the modern show.
And how will Agent Carter deal with the big problem, namely that we know Hydra has infiltrated SHIELD almost from the very beginning, while the characters do not? One obvious conclusion will have Peggy and other characters being smart enough to know that Arnim Zola isn't a guy to be trusted — hopefully he's another character that will show up once or twice. But dealing with the Hydra problem will be only one of the big story points for the show. [sources: The LA Times 1, 2]