'X-Men: Days Of Future Past' Early Buzz: Is It The Best X-Men Film Yet?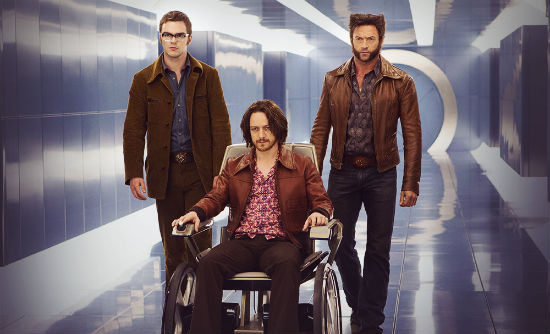 The first press screenings of Bryan Singer's X-Men: Days of Future Past took place on Thursday in preparation for this weekend's press junket. Originally, attending press were going to be embargoed from posting their opinions, but Twitter blew up immediately following the film. It seems the reaction was so overwhelmingly positive, 20th Century Fox had no problem letting people know they've apparently got the goods this summer.
We'll have much more on X-Men: Days of Future Past as we approach its release on May 23, but below, read the first reactions for the film.
Here are just a small sampling of reaction Tweets from the film. Comic Book Movie has even more, and most of the below journalists tweeted multiple things. We just wanted a quick sample.
But honestly, I didn't see one negative reaction. Here are the tweets.
Wow! DAYS OF FUTURE PAST is the greatest, most complete and staggeringly entertaining #xmen movie to date. Incredible. Movie of the summer!

— Sean O'Connell (@Sean_OConnell) May 8, 2014
X-MEN: DAYS OF FUTURE PAST is great. Film finds a way to make both casts work & Quicksilver...wow. His main scene is highlight of the film.

— Steven Weintraub (@colliderfrosty) May 8, 2014
have to say...was fucking awesome seeing the old and new X-MEN cast in the same movie. Movie is 2hr 10min. Wish it was longer.

— Steven Weintraub (@colliderfrosty) May 8, 2014
Saw X-Men: DOFP & it was really good! In opinion its the best X-Men movie so far but that's just me. It was like Avengers but with Mutants.

— LRM Online (Latino Review Media) (@LRM_Exclusive) May 8, 2014
Literally freaking out about how incredible #XmenDaysOfFuturePast was. My expectations were sky high and it even surpassed them. Just wow.

— Amirose Eisenbach (@Amirosie) May 8, 2014
They should call X-MEN: DAYS OF FUTURE PAST...DAYS OF FUTUTE HOTNESS! TAKE IT FROM YOUR BOY FANBOY NATION THE MOVIE IS ABSOLUTE FIYAH! BOOM!

— Umberto Gonzalez (@elmayimbe) May 8, 2014
Is it as good as THE WINTER SOLDIER y'all ask? Well, mutants ain't my thing & I'm a tad biased towards Cap but yes, it's just as good!

— Umberto Gonzalez (@elmayimbe) May 8, 2014
Geeking out! Saw #XmenDaysOfFuturePast – Mind = officially blown! – Insane emotion/action! Every performance is awesome! Fav #XMen flick!!!

— Kevin McCarthy (@KevinMcCarthyTV) May 8, 2014
There was also a lot of positive buzz about Quicksilver and the post credits scene, whatever that may be. Incidentally, for those wondering, the run time is about 130 minutes.
Again, we'll have more on the film soon. But what do you think of these reactions? Do you trust them? Do they raise your expectations? Where were your expectations before/after this?
X-Men Days of Future Past stars Hugh Jackman, James McAvoy, Michael Fassbender, Jennifer Lawrence, Halle Berry, Anna Paquin, Ellen Page, Peter Dinklage, Patrick Stewart and Ian McKellen. It opens May 23 in the US. Here's the official description:
The ultimate X-Men ensemble fights a war for the survival of the species across two time periods in X-MEN: DAYS OF FUTURE PAST. The beloved characters from the original "X-Men" film trilogy join forces with their younger selves from the past, "X-Men: First Class," in order to change a major historical event and fight in an epic battle that could save our future.