'Dawn Of The Planet Of The Apes' Trailer: "War Has Already Begun"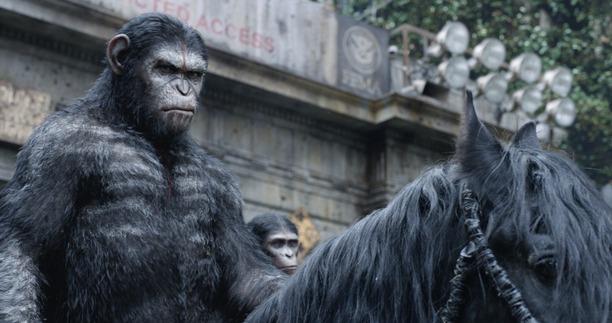 At long last, Fox has revealed the new Dawn of the Planet of the Apes trailer. This one lays out a lot of the plot from the apes' perspective, showing us what they've been up to for the past four years and why they're coming back into conflicts with the humans now.
Andy Serkis returns as Caesar, leader of the apes, while Jason Clarke, Keri Russell, and Gary Oldman play some of the humans who cross paths with them. Hit the jump to watch the video.
UPDATE: We've also added an international trailer.
What was remarkable about Rise of the Planet of the Apes, and what looks interesting about this one, is the way they're able to arouse sympathy for the apes. Even though we know that their ascendance means humanity's downfall, it's tough not to feel for Caesar and his gang, who apparently just want to be left in peace. On the other hand, it's also pretty hard to blame the humans for being distrustful or angry.
Fox has been pretty careful so far not to give too much away with their Dawn of the Planet of the Apes campaign, but what we have seen looks pretty promising. There's plenty of action and excitement to go around, but the complicated, emotional story at the center sets it apart from other blockbuster franchises. 
Dawn of the Planet of the Apes opens July 29. Toby Kebbell, Kodi Smit-McPhee, and Judy Greer also star.
A growing nation of genetically evolved apes led by Caesar is threatened by a band of human survivors of the devastating virus unleashed a decade earlier. They reach a fragile peace, but it proves short-lived, as both sides are brought to the brink of a war that will determine who will emerge as Earth's dominant species.
UPDATE: Here's the international trailer as well.