Watch A Featurette And Clip From Great, Weird Musical Comedy 'Frank'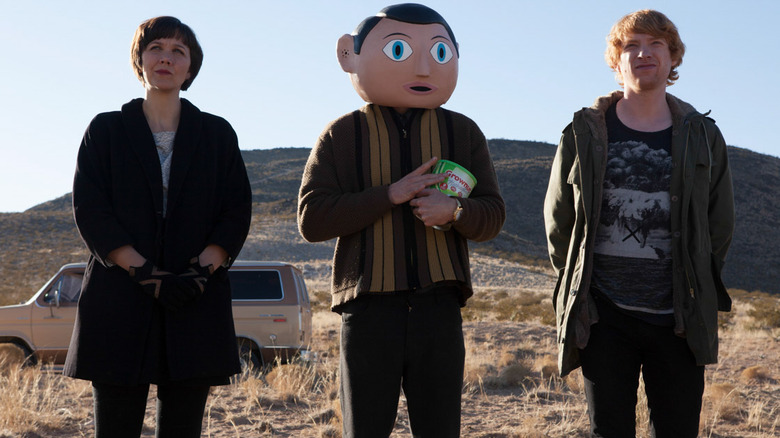 One of my favorite films so far in 2014 is Frank, the movie in which Michael Fassbender plays a musician who spends every minute of every day wearing a giant fake head. That's a pretty good way to get some attention for the film, but Frank is a very funny and genuinely wonderful movie about the process of creativity, and the fact that some of us are simply no good when it comes to making music and art.
Still, it's a weird concept to get your, um, head around to some extent, so how about a clip featuring Fassbender's title character in conversation with the musician (Domhnall Gleeson, of About Time and soon of Star Wars Episode VII) who desperately wants to be his musical equal? That will get across the tone of the film pretty well. If you still have questions (and you will) there's also a great ten-minute featurette that gives a lot of background without giving too much away.
First, here's a clip that gets into one of the primary problems that crops up when trying to work with someone who wears a giant paper-mache head twenty-four hours a day:
And this featurette is even better — it goes into a good amount of detail about the ideas behind making the film, and gives you some pretty rare interview clips with Michael Fassbender talking about his approach to the role. Domhnall Gleeson has a lot to say, too, and there's plenty of footage from the film. No real spoilers here, even, which is just a bonus.
Frank opens on August 22 (and on May 9 in the UK). Featurette via The Playlist. Clip via Facebook.
FRANK is an offbeat comedy about a wannabe musician who finds himself out of his depth when he joins a maverick rock band led by the enigmatic Frank – a musical genius who hides himself inside a large fake head.
FRANK stars Dohmnall Gleeson, Maggie Gyllenhaal, Scoot McNairy and Michael Fassbender and is directed by Lenny Abrahamson (Adam & Paul, Garage, What Richard Did). Written by Jon Ronson (The Men Who Stare At Goats) and Peter Straughan (Tinker Tailor Soldier Spy, The Men Who Stare At Goats), FRANK is a fictional story based on the memoir by Jon Ronson and loosely inspired by Frank Sidebottom (the persona of cult musician and comedy legend Chris Sievey), as well as outsider musicians like Daniel Johnston, Captain Beefheart and Harry Partch.