Disney Keeping Marvel's May Release Dates; Ranks 'Frozen' As Top 5 Franchise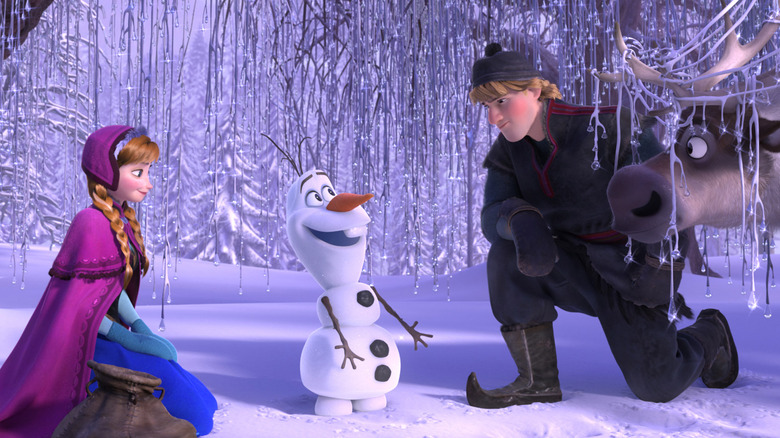 Besides the Star Wars spin off news, Disney CEO Bob Iger dropped a few other very interesting tidbits during Tuesday's Walt Disney Company quarterly earning stockholders call. First up, when asked about May 6, 2016, the day Disney will release Captain America 3 and Warner Bros. has Batman vs. Superman, Iger said Marvel will be keeping the date. He's also seen Guardians of the Galaxy.
Plus, Iger said Frozen is now one of their top five franchises and they're "developing some concepts around" it at theme parks. Read more about the Frozen franchise, Guardians and Marvel's May release dates below.
Once again, Variety and the Wall Street Journal had reporters live tweeting the event.
First up, this:
Disney will hang on to the May opening slot for Marvel's movies with Avengers: Age of Ultron (2015) and Captain America 3 in 2016

— Marc Graser (@marcgraser) May 6, 2014
From a business standpoint, having an annual, regular release date is a good thing for audiences. If you have fans expecting your movies every year at the same time, that can only help and at this point, fans expect a new superhero movie on the first week of May. In recent years, that's almost always been Marvel so of course Iger has to say this. But, as has been covered time and time again, one of these movies is moving. And it's probably going to be Batman vs. Superman. They have way more to lose.
Speaking of Marvel, Iger just saw a cut of Guardians of the Galaxy and was very happy with it. "It has strong franchise potential."
On to the Frozen franchise:
"Frozen" is one of Disney's top five franchises now, says Iger. "Developing some concepts around" it at the parks now.

— Ben Fritz (@benfritz) May 6, 2014
We'd been hearing this for sometime. The Frozen meet and greets in the Disney parks are currently sporting three to four hour waits and the Norway pavilion at Epcot might eventually be getting a Frozen expansion. The fact they consider it a top five Disney franchise, though, is interesting. You'd have to think that list contains Star Wars, The Avengers, Cars, Toy Story and then maybe Frozen? That sounds about right at this point. Especially because of this:
9 out of 10 top selling items at Disney Store last quarter were "Frozen" related.

— Ben Fritz (@benfritz) May 6, 2014
That's what franchises are all about right there.
Even though we aren't likely to see a Frozen sequel anytime soon, it's sure to be something we live with for a very long time. What do you think is next?