Watch Two 'Godzilla' Clips And Eleven Minutes Of Behind The Scenes B-Roll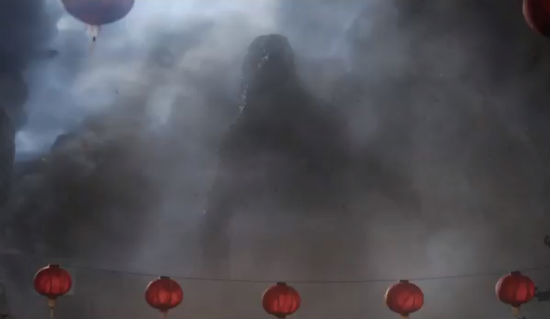 Want to see more of Godzilla? New clips and a big collection of behind the scenes shots will give you more of a look at the revitalized lizard. You can see Gareth Edwards directing Bryan Cranston, Ken Watanabe, Elizabeth Olsen, and Aaron Taylor-Johnson, among others, in eleven minutes of behind the scenes B-roll. In addition, two of the film's better scenes have been excerpted as clips. Check out the two Godzilla clips and other footage below.
I can't say anything about Godzilla at this point, but these two clips will give you a good idea of what's in store. The first clip is called "let them fight," and you can imagine the payoff it builds towards. All I'll say about this clip is that the flying thing seen here is not Rodan. What is it? We've seen it before, but the answer is given more explicitly in the second clip.
Here's a lot of B-roll footage showing the creation of the film. From what I've seen there aren't any big spoilers in here, but you might want to wait until after seeing the film to watch all these. You'll have a lot more context then, too, for what you'll see in these reels.
Godzilla opens on May 16. Clips via IGN.
An epic rebirth to Toho's iconic Godzilla, this spectacular adventure, from Warner Bros. Pictures and Legendary Pictures, pits the world's most famous monster against malevolent creatures who, bolstered by humanity's scientific arrogance, threaten our very existence. Gareth Edwards directs "Godzilla," which stars Aaron Taylor-Johnson ("Kick-Ass"), Oscar® nominee Ken Watanabe ("The Last Samurai," "Inception"), Elizabeth Olsen ("Martha Marcy May Marlene"), Oscar® winner Juliette Binoche ("The English Patient," "Cosmopolis"), and Sally Hawkins ("Blue Jasmine"), with Oscar® nominee David Strathairn ("Good Night, and Good Luck.," "The Bourne Legacy") and Bryan Cranston ("Argo," TV's "Breaking Bad")