Sequel Bits: 'Pitch Perfect 2', 'Now You See Me 2', 'How To Train Your Dragon 2'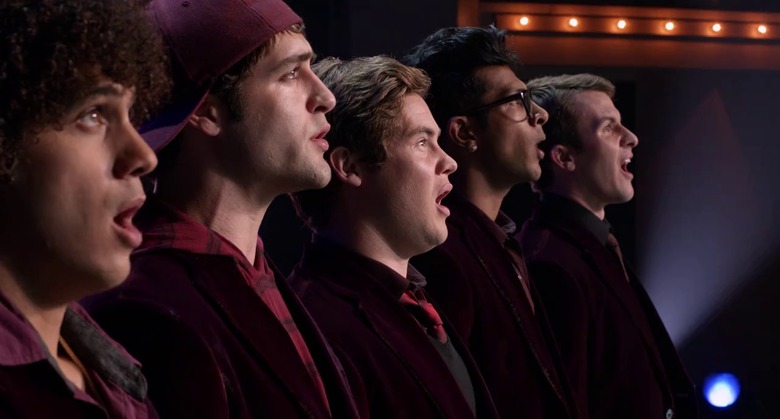 Treble comes for the Barden Bellas again as Adam DeVine joins the Pitch Perfect sequel. Also after the jump:
Will Mothra make an appearance in Godzilla 2?
David Spade would like to bring you Joe Dirt 2
Now You See Me 2

will shoot later this year, probably
The Smurfs reboot gets pushed back a year
Hear Jon Snow in a How to Train Your Dragon 2 clip
Check out the trailer for the Rurouni Kenshin sequels
Transformers: Age of Extinction gets a Chevy commercial
See pics from the making of the Transformers soundtrack
Could Mothra drop in on the (so far completely hypothetical) Godzilla sequel? Though the classic winged monster doesn't actually show up in the new Gareth Evans movie, it does get a brief shout-out. The film includes a shot of a terrarium that Aaron Taylor-Johnson's character owned as a child, which has the word "Mothra" written on the side.
Whether the moment is meant to set up future plotlines, or just serve as a fun little Easter egg, is unclear. And not surprisingly, the filmmakers aren't saying. "We're passionate fans of the universe" was all producer Thomas Tull would admit. Godzilla opens next weekend. [Badass Digest]
Thirteen years after Joe Dirt hit theaters, David Spade is working on a sequel. In fact, he already has it written — now he just needs to make it fit a lower budget.
We're putting it together now and seeing if we can keep it as funny and with the music we like for a lower budget. All the movies you hear about being made now keep running into budget problems, this and that, and it sounds boring, but it's just a new world, where they can't make those $15-30 million comedies anymore. It's either $3 million or $200 million, there's almost no in-between, so everyone's adjusting to either a summer tentpole Avengers-type movie, or learning to get down and dirty and gritty and making a smaller movie. I just don't want to burn the fans and want to make it good, so me and the other writer are combing through the sequel and trying to make it make sense and have good music and be funny within the parameters. So hopefully it will be soon, or it will be too pointless.
If and when Joe Dirt 2 does arrive, though, it may not be in theaters.
We wrote a sequel, and we may wind up doing it on Crackle.com, because they want to be the first web address to do a sequel to a movie. Because Sony owns them, and it's a Sony movie. We're trying to find a way to make it for the budget, but we really want to do it. And keep it good.
Spade adds that he hopes Christopher Walken and Kid Rock will star in the sequel, and that they'll be willing to take pay cuts to do so. [Reddit]
The Barden Bellas aren't the only ones coming back for Pitch Perfect 2. Adam DeVine is also back to reprise his role as Bumper Allen, leader of rival group The Treblemakers. He joins returning stars Anna Kendrick, Rebel Wilson, and Brittany Snow and new star Hailee Steinfeld. Elizabeth Banks is directing the comedy sequel, which opens May 15, 2015. [Deadline]
Lionsgate has been eager to move forward on a second Now You See Me ever since the first one hit it big last year. Now star Dave Franco says he expects it'll get going sooner rather than later.
Last I heard, we were still going at the end of this year. [...] I've heard a pitch of the story. It's actually going to be really exciting. I was slightly weary, just because you never know when it comes to a sequel. But I think the first one opened up enough avenues. There are many directions left to explore. There are many places that it can go, and they really – they held true to the spirit of the first one, but it's going to be enough of a departure that it doesn't just feel like a complete copy of the first one.
As of now, however, Now You See Me 2 has no release date. [CinemaBlend]
The Smurfs are taking their time returning to the big screen. Sony has pushed the upcoming reboot back by one year, from August 14, 2015 to August 5, 2016. Kelly Asbury is directing.
While a long delay is sometimes cause for concern, in this case it seems like cause for cautious optimism. The new Smurfs movie will not be a sequel to the two previous movies, but rather a reimagining of the franchise. [THR]
As Jon Snow on Game of Thrones, Kit Harington famously knows nothing. But as Eret, son of Eret, in How to Train Your Dragon 2, he knows something very important that Astrid (voiced by America Ferrera) does not. And she's willing to do what it takes to make him talk. Watch the clip below:
Harington doesn't get to loosen up much on Game of Thrones, so it's kind of entertaining to hear him unleash a goofier side here. How to Train Your Dragon 2 lands June 13. [YouTube]
The phenomenally popular Japanese manga and anime Rurouni Kenshin got a live-action adaptation in 2012, and fared well enough to spawn two sequels. The first, Rurouni Kenshin: Kyoto Inferno, opens in Japan August 1, followed by the second, Rurouni Kenshin: The Legend Ends, on September 13. Watch the trailer for the two sequels below.
Keishi Otomo directs, and Satoh Takeru and Fujiwara Tatsuya star. [Twitch]
Steve Jablonsky has been hard at work on the score for Transformers: Age of Extinction, and he has the photos to prove it. The composer posted these pics on Facebook, along with the caption below.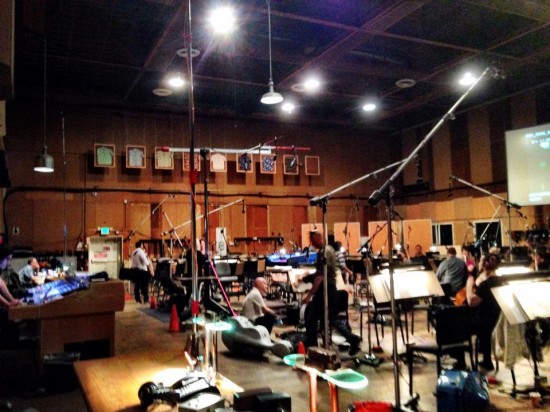 The calm before the storm....
Lockdown doesn't stand a chance against a room full of LA musicians
In other Transformers news, here's a Transformers-themed Chevy ad.
Transformers: Age of Extinction opens June 27. [TFW2005]