Watch A Short Tease Of The 'Star Wars Rebels' Trailer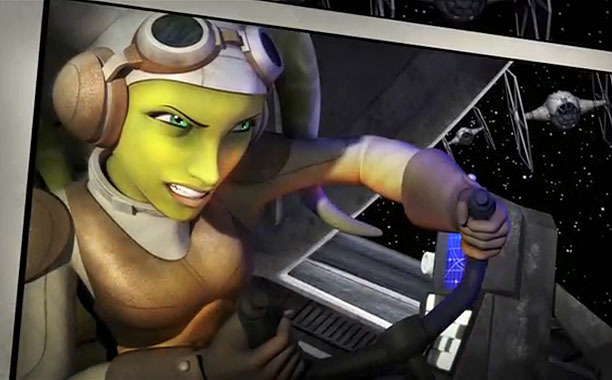 In case there hadn't been enough Star Wars shot into your eyeballs this week, we haven't even hit the grand finale. That will take place on Sunday May 4, otherwise known as Star Wars Day. Surely nothing on "May the 4th Be With You" could beat Tuesday's announcement, right? But there could be more info on Star Wars Episode VII. And we will, for sure, see a full trailer for Star Wars Rebels.
Rebels, if you are unaware, is an upcoming Disney XD animated series set between Episodes III and IV revealing the in-canon story of how the Rebellion against the Empire was created. It premieres this Fall and while we've seen some clips and character introductions, we haven't seen a good, long chunk yet. We'll get that Sunday morning, but for now, check out a preview of the Star Wars Rebels trailer.
Star Wars Rebels Trailer Tease:
Here's the official blurb:
It's time to join the rebellion. Get a sneak peek at the trailer for Star Wars Rebels two days before it's revealed.
Star Wars Rebels takes place between Star Wars: Episode III and IV as the Empire tightens its grip on the galaxy and a rebellion begins to form. The series, executive produced by Dave Filoni, Simon Kinberg, and Greg Weisman, is scheduled to premiere in fall 2014 as a one-hour special telecast on Disney Channel and will be followed by a series on Disney XD.
We'll have more time to discuss Star Wars Rebels this weekend when the full trailer hits but I still have a few major issues with it that I haven't seen addressed. The main one is the story of the Rebellion. The Rebellion that, by the time the movies pick up with it, is run by Princess Leia and a bunch of old white guys. Star Wars Rebels is full of all of these crazy aliens without a real, recognizable face in sight. We know Rebels – like Clone Wars before it – will be canon, so I think its success with fans will hinge not only on the story itself, but how it ties into the movies. For me, that's key. It could be a dumb story with kiddie character but if it enhances our knowledge of the Rebellion, I'll be happy.
We'll find out more at 12:01 a.m. Sunday May the 4th. What did you think of the tease?